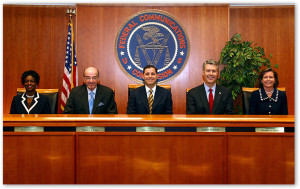 A Democrat on the Federal Communications Commission wants to narrow the scope of new net neutrality rules that are set for a vote on Thursday, The Hill has learned.
Mignon Clyburn, one of three Democrats on the FCC, has asked Chairman Tom Wheeler to roll back some of the restrictions before the full commission votes on them, FCC officials said.
The request — which Wheeler has yet to respond to — puts the chairman in the awkward position of having to either roll back his proposals, or defend the tough rules and convince Clyburn to back down.
It's an ironic spot for Wheeler, who for months was considered to be favoring weaker rules than those pushed for by his fellow Democrats, before he reversed himself about backing tougher restrictions on Internet service providers.
Wheeler will need the votes of both Clyburn and Democratic Commissioner Jessica Rosenworcel to pass the rules since the two Republicans on the commission are expected to vote against anything he proposes.
Clyburn's changes would leave in place the central and most controversial component of Wheeler's rules — the notion that broadband Internet service should be reclassified so that it can be treated as a "telecommunications" service under Title II of the Communications Act, similar to utilities like phone lines.
Proponents of net neutrality have said that move is the surest way to prevent Internet service providers from interfering with people's access to the Web.
However, she wants to eliminate a new legal category of "broadband subscriber access services," which was created as an additional point of legal authority for the FCC to monitor the ways that companies hand off traffic on the back end of the Internet.
Those deals, known as "interconnection" arrangements, became a point of contention last year, when Netflix accused Comcast and other companies of erecting "Internet tolls" before easily passing Web traffic from one network to another.
The initial plan sought by Wheeler would allow the FCC to investigate and take action against deals that are "not just and reasonable," according to a fact sheet released by the FCC earlier this month.
Eliminating the new legal category could make it trickier for the FCC to police those arrangements, said the FCC officials, who were granted anonymity in order to speak freely about the ongoing negotiations.
Other FCC officials have previously said that the broader act of reclassifying broadband Internet service would, in and of itself, give the commission enough powers to oversee interconnection deals. That opinion has been backed up by lawyers at Google, among others, who made the argument to FCC officials last week.
Clyburn's changes also would replace a new standard for Internet service providers' conduct, which was meant to act as a catchall rule for any future behavior that might abuse consumers. That standard would be swapped out with potentially narrower language from 2010 rules that prevented "unreasonable discrimination." A federal court tossed out those 2010 rules early last year, setting the stage for the FCC to write new rules.
The full text of the rules will not be revealed to the public until after the FCC's vote on Thursday morning.
Clyburn declined to discuss specific changes she was supporting on Tuesday.
"This is a process that is an interaction with all five members of the commission and their offices," she said after remarks at a policy forum hosted by Comptel, a trade group.
"I will just say that I am attempting to strike a balance and whatever you hear, whether it's accurate or not, is a reflection of my enthusiastic willingness to do so."
In a speech at the Federal Communications Bar Association last week, the commissioner said that she was "pleased" with the initial draft but also hinted that she might need some fixes to strike that balance between "strong" protections for consumers and "clarity" for investors.
"Some have expressed concerns about allowing private rights of action in court, failing to consider the impact on smaller [Internet service providers], that including interconnection goes too far or that the case-by-case approach does not go far enough and that the new conduct rule may not be as strong as the previous unreasonable discrimination rule," she said.
The requested changes come as FCC lawyers are spending hours poring over the text of the rules.
In keeping with FCC procedural rules, the four other commissioners outside of Wheeler's office got their first look at the rules just two and a half weeks ago. Now they are scrambling to make edits ahead of the vote on Thursday morning.