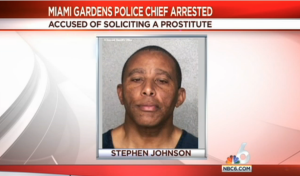 Miami Gardens Police Chief Stephen Johnson was arrested on February 27 for soliciting a prostitute.  According to a police report, Broward Sheriff's Office deputies were conducting an undercover operation targeting solicitation of prostitution in a Dania Beach hotel when Johnson was caught in their sting operation.
After posting an advertisement on backpage.com, two detectives were posing as prostitutes at the hotel.  Johnson called the number specified in the ad and agree to pay $100 for spending 30 minutes with the two detectives.
Johnson was arrested once he handed over $100 to the two undercover detectives.  A press release stated that he was immediately fired by the mayor of Miami Gardens.
"We remain committed to excellence and integrity on every level," the department said in the release. "We will not allow Mr. Johnson's bad judgment to reflect negatively on the hardworking officers of the City of Miami Gardens and the residents they serve on a daily basis."
The same police department came under fire earlier this year when the 25-year-old Lavall Hall was shot by an officer.
Johnson was named Miami Gardens' Police chief in May 2014 after a long career with the North Miami Police Department. He also served as North Miami's city manager from 2011 to 2014.