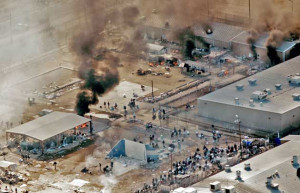 About 40 miles from the U.S.-Mexico border in Raymondville, Texas, there is a facility nicknamed Ritmo, or Raymondville's Guantánamo.  It was nicknamed Ritmo because of the terrible conditions that prisoners live in, which are ultimately the reason for the riot.
The prisoners were protesting poor medical attention,  cruel treatment and sexual abuse; all a common complaint in private prisons housing undocumented immigrants.
The riot – or "unrest" as prison officials called it – started early Friday at the Willacy County Correctional Center.  The center is operated by a privately held prison company named Management and Training Corp. on behalf of the U.S. Bureau of Prisons. Management and Training's 10-year contract with the federal government is worth about half a billion dollars.
Prisoners refused to come out of their cells for breakfast or go to work on Friday, in protest of what they said was inadequate medical service at the prison. Inmates broke out of their housing structures and congregated in the recreation yard, setting fire to several outbuildings.  The prison guards responded with tear gas and other methods of crowd control, and only minor injuries were reported.
The riot left the prison "uninhabitable," according to Ed Ross, a spokesman for the U.S. Bureau of Prisons. As many as 2,800 prisoners will be moved to other institutions, he said.
The facility is not stranger to violence or controversy as last February authorities ordered a lockdown after a disturbance. State, county and local law enforcement agencies had to be asked to assist in guarding the facility, according to local media.
The ACLU report also found a pattern of abuse and inhumane conditions at four other privately run federal prisons in Texas that house immigrants.
Those facilities, known as criminal alien requirement (CAR) prisons for immigrants, house noncitizens, most of whom have been convicted of only immigration offenses.
"At the CAR prisons we investigated, the prisoners lived day to day not knowing if their basic human needs would be met, whether they would get medical attention if they were hurt or ill," Carl Takei, a staff attorney at the ACLU's National Prison Project, said in a press release last year. "The Bureau of Prisons creates perverse incentives for the for-profit prison companies to endanger human health and lives."
The Willacy facility was an Immigration and Customs Enforcement (ICE) detention center. But after AlJazeera reported rampant sexual and physical abuse and medical neglect at the facility from 2006 to 2011, ICE announced it was transferring detainees out of Willacy. Management and Training obtained a contract to hold prisoners for the Bureau of Prisons — the contract it operates under today, the ACLU said in its report.