About 50 protesters took to the streets in Monterey, California on Saturday as part of a growing national movement aimed at stopping police violence.
Eight of the demonstrators were taken into custody after they shut down traffic on a major highway, according to Monterey Assistant Police Chief Dave Hober.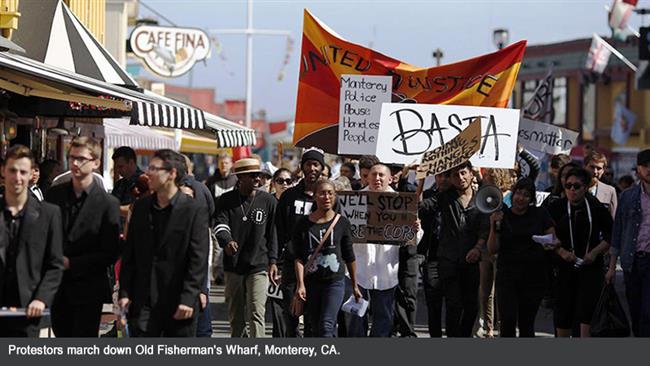 Those arrested include four women and four men. They face misdemeanor charges for obstructing a public roadway, disobeying a lawful order by police and unlawful assembly.
The rally, dubbed "Black and Brown Lives Matter," was inspired by the racial unrest that has overtaken several US cities, including Ferguson, Missouri, where an 18-year-old black male, Michael Brown, was shot and killed by a white police officer in August, 2014.
The protesters chanted "No justice, no peace, racist cops off the street," and "Ain't no power like the power of the people if the power of the people don't stop."
The rally attracted people of multiple races from California's Salinas Valley, including college students.
Many were carrying signs or wearing T-shirts bearing messages that included, "Stop killing brown people," "Brown lives matter," "No killer cops in Salinas," "Stop police impunity," and "Police brutality is white supremacy."
Police treatment of African-Americans and other minorities has become a big issue in the United States over the past year.
A recent poll has found a significant distrust of police in the United States, where many Americans believe police unfairly target minorities and often lie for their own interests.