With a Black population of 75 million, Brazil has the second highest number of Black people in the world after Nigeria. The country has long boasted that it is free of racism because of a "racial democracy" that doesn't see and acknowledge skin color. But behind that myth, the real story is much different.
Police Killings of Black People Worse Than in U.S.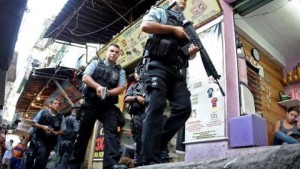 Though police killings of Black men have roiled the U.S. in recent months, the problem is actually much more rampant in Brazil. Brazilian police killed 2,212 people last year, according to a study by the Brazilian Forum of Public Safety, a national think tank, released last November. That's an average of six a day. Between the Brazilian state and federal police violence, they have killed more Brazilians in the last five years (11,200) than did all U.S. police combined in the last 30 (11,090). The predominant targets of the Brazilian police are Black people. A 2009 study by economist Daniel Cerqueira found that twice as many Blacks as whites were victims of police violence. "Our police kill by the hundreds," Ignacio Cano, a sociologist who specializes in the study of crime and police violence, told Bloomberg News. "We have a Ferguson every day."
Black Brazilians Consigned to the Slums
In the 2010 census, 51 percent of Brazilians defined themselves as Black or brown, while nearly half said they were white. The average income of whites is more than double that of Black or brown Brazilians. More than half the people in Rio de Janeiro's favelas (slums) are Black — while the comparable figure in the city's richer districts is just 7 percent, according to The Economist. The favelas is where a large percentage of the police killings of Black people occur. Clearly, Brazilian society has been set up in a way that rewards white skin and punishes Blackness.
Blacks Are Ugly
Zeze Motta, who became Brazil's first Black sex symbol when she starred in the film Xica da Silva in 1976, said the producer of the movie that made her famous at first didn't want to give her the part because he thought she was ugly.
"Until very recently in Brazil, Black people were all considered ugly," Motta, now 70, told Henry Louis Gates in his documentary, Brazil: A Racial Paradise? As Gates points out, this is reflected in the fact that all the top actresses, models and television personalities in Brazil look white.
Racial Democracy Is a Joke
Abdias Nascimento, who died in 2011 at the age of 97, was one of the most famous Black activists in Brazil. Asked by Gates whether Brazil has ever truly been a racial democracy, Nascimento laughed.
"This is a joke that has built up ever since Brazil was discovered, and Brazil likes to spread this around the world," said Nascimento, who was also a celebrated writer, painter and professor. "It's a huge lie. And the Black people know this. They feel in their flesh the lie which is racial democracy in this country. Look at Black families, where they live. The Black children, how are they educated. You will see it's all a lie. I am saying this with profound hatred, bitterness, with the way Black people are treated in Brazil. It's shameful that a country that has a majority of Black people, Black people who built this country, they should remain as second-class citizens."
'You Belong in a Circus'
Though the members of Brazil's soccer team are hailed as heroes in this soccer-crazy nation, not even they are immune to racial insult. Brazilian midfielder Marcos Arouca da Silva was called a monkey during a postgame interview, an event that he said wasn't an isolated incident. Brazilian referee Marcio Chagas da Silva has said he's been subjected to more than 200 racially based attacks during his career refereeing matches in the country, according to The Root. Reports say that during a recent game between Brazilian clubs Esportivo and Veranopolis, fans reportedly yelled at the referee from the stands, "You belong in a circus. Go back to the forest, you monkey."
'Racial Democracy Doesn't Exist'
In his documentary, professor Gates talked to rapper MV Bill, who is also an activist and best-selling author in addition to socially conscious rapper. MV Bill, who still chooses to live in the infamous favela known as City of God, told Gates that he has been discriminated against and treated badly in Brazil because of his skin color even after he became famous.
"In Brazil we are not allowed to talk about this. We have to live in a racial democracy that doesn't exist. There is no equality," he said. "Brazil was one of the last countries to abolish slavery. And since then we have lived under the myth of a racial democracy. But this democracy is exposed as a lie when we look at the color of the people who live in favelas, the color of the people who are in prison, the color of the people who live from crime. People will tell you in Brazil that our problem is an economic problem, a social problem, anything except racial. It can never be racial. But it is."
Whites Will Get the Job
Racial stratification has been ignored for so long because the racism exists under a veil, activists told TheEconomist. "In Brazil you have an invisible enemy. Nobody's racist. But when your daughter goes out with a black, things change," said Ivanir dos Santos, a Black activist in Rio de Janeiro. He added that if Black and white youths with equal qualifications apply to be a shop assistant in a Rio mall, the white will get the job.
Imbalance at University
The imbalance between Blacks and whites can clearly be seen in the country's universities. In 2006, only 6.3 percent of Black 18- to 24-year-olds were in higher education, compared to 19.2 percent of whites. Because of these numbers, Brazilian President Dilma Rousseff enacted what The New York Times called "one of the Western Hemisphere's most sweeping affirmative action laws," requiring public universities to reserve half of their admission spots for the largely poor students in the nation's public schools and vastly increase the number of Black students in the universities across the country. Brazil's former president, Luiz Inácio Lula da Silva, told the Times he was "completely in favor" of the quotas. "Try finding a black doctor, a black dentist, a black bank manager, and you will encounter great difficulty," da Silva said. "It's important, at least for a span of time, to guarantee that the blacks in Brazilian society can make up for lost time."
One Black Cabinet Member
Though President Rousseff has been proactive with enacting affirmative action legislation, it hasn't extended to her cabinet. When she enacted the affirmative action plan, only one of the 38 members of her cabinet were Black (though 10 were women). Stand outside the adjacent headquarters of Petrobras, the state oil company, and the National Development Bank in Rio at lunchtime, and "all the managers are white and the cleaners are black," Frei David told The Economist.
Article reprinted from AtlantaBlackStar.com