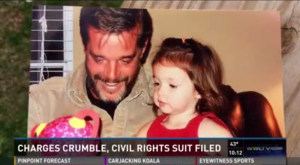 Douglas Dendinger's two-year nightmare began on Aug. 20, 2012, when he was paid $50 to serve a court summons on behalf of his nephew against Bogalusa police officer Chad Cassard in a police brutality lawsuit.
The 47-year-old disabled veteran would be in prison if it was not for cell phone video exposing what can be described as a coordinated and conspiratorial effort by Washington Parish, La. cops and prosecutors who falsely accused him of battery and witness intimidation.
Dendinger handed Cassard a white envelope containing the documents and says he went on his way.  Twenty minutes later, the cops showed up to Dendinger's house and arrested him. He was put in jail on charges of simple battery, obstruction of justice and intimidating a witness.
Because of a prior conviction and two of the felony charges, Dendinger could have landed in prison for a very long time.
A year after the incident, then-District Attorney Walter Reed brought charges against Dendinger. His case was backed by two prosecutors who asserted that Dendinger had assaulted Cassard. Seven witness statements also supported the case and backed Cassard's claimg that that Dendinger "slapped him in the chest" when he served the summons.
A staff attorney named Pamela Legendre who witnessed the hand-off said she thought Dendinger had punched Cassard while Bogalusa police chief Joe Culpepper said that Dendinger had used "violence" and "force." Another witness said in a deposition that Dendinger used such force when he served the summons that "Cassard flew back several feet."
"It wasn't fun and games, they had a plan, the plan was really to go after him and put him away. That is scary," Philip Kaplan, the attorney representing Dendinger in his civil rights said.
Fortunately for Dendinger, his wife and nephew had recorded him handing off the summons as evidence that it was delivered.
The video of the meeting shows Dendinger handing Cassard the summons in the white envelope and the former police officer walking away in the opposite direction. The video recording never shows Cassard being slapped, punched or pushed.  There was no evidence to indicate that an assault took place or there was violence present in the encounter.
One of the witnesses claiming Cassard was pushed back is shown with his back to the two men.
Once the video went public, the charges against Dendinger were immediately dropped.
Rafael Goyeneche, president of the New Orleans Metropolitan Crime Commission said, "I didn't see a battery, certainly a battery committed that would warrant criminal charges being preferred."  He also pointed out that the officers, attorneys and prosecutors involved in the conspiracy to convict Dendinger could face ethics charges.
"It's a felony to falsify a police report," Goyeneche continued. "So this is a police report, and this police report was the basis for charging this individual."
It is unknown what the punishment, if any, will be for those involved in the plan to charge and convict Douglas Dendinger, but it is unlikely that anything will come out of it.