Just a few months after Cleveland police killed Tamir Rice, another teenager has been identified as the victim of a police shooting on Cleveland's east side.
The shooting happened around 2:15 a.m. on Primrose and Parkwood Drive.
Cleveland Police say they were responding to reports of a break-in at Parkwood Grocery.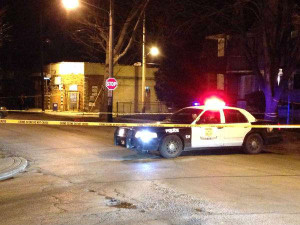 The officers say they confronted 18-year-old Brandon Jones leaving the store through the front door with a bag. A struggle ensued when police say they tried to take Jones into custody but during the struggle one officer fired a shot from his weapon striking Jones.
The teen was taken to MetroHealth Medical Center where he died.
The 90-year-old store owner said the suspect tried to steal cigarettes, the cash register and loose change.
"I'm glad the officers got here," said owner Essex Hayward.
Hayward, who has owned the store for more than 40 years said this is not the first time he's been robbed. Hayward says he has had problems in the past, and has even been shot.
The two officers responding to the scene were not hurt. They are on three-day administrative leave, which is standard.
19 Action News|Cleveland, OH|News, Weather, Sports