FERGUSON, Mo. — John Shaw, 39, the city manager of Ferguson, Missouri, resigned on Tuesday at a City Council meeting. The resignation comes one week after the Department of Justice released a report blaming him for questionable police conduct, saying said he was responsible for overseeing the police and courts as they engaged in racially biased practices.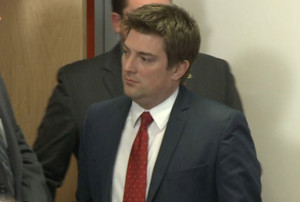 The Justice Department report reveals an email from March 2010 to the city's finance director, where Shaw wrote "unless ticket writing ramps up significantly before the end of the year, it will be hard to significantly raise collections next year." The following year resulted in a court revenue of more than $179,000, the highest monthly total in four years. In response to the increased revenue, Mr. Shaw wrote "Wonderful!" in an email response to the finance director.
Shaw became the Ferguson city manager in 2007, and resigned just one day after the city's municipal judge stepped down and was replaced by a state appellate judge assigned by the Missouri Supreme Court. The report shows that Shaw pushed the police to use tickets and fines to bring in revenue, and ignored calls for change to the city's criminal justice system.