The mayor of Ferguson has dismissed calls to resign following a damning investigation into the fatal police shooting of Michael Brown, an unarmed black teenager, last year.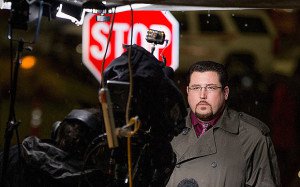 Instead, James Knowles struck a defiant tone in a string of interviews, insisting he had the support of residents at a time when the small Missouri city needed leadership.
Earlier this week, the police chief resigned following a scathing report that blamed city authorities, its police department and municipal court for racial bias in targeting African-American people as a means of generating revenue.
Mr Knowles said six city officials had resigned or been sacked, giving the community the clean start demanded by residents.
"There's ways for them to remove me if they so choose. But right now this community needs leadership," he told NBC News. "This community needs someone who is going to stay around and work toward bringing us together, moving us forward.
"And I've committed to doing that. And so has the rest of the city council."
He said problems in the police department were down to a few "bad apples".
And he insisted he retained the support of a lot of residents, in a St Louis suburb of 21,000.
About two thirds are black, compared with a predominantly white police force and city government, including its mayor.
His words are unlikely to placate those demanding he be subject to a recall election, furious at the way officials have handled the killing.
The city saw weeks of rioting last year and trouble flared again during the past week.
Crowds gathered on Wednesday, following the release of the Department of Justice report, which catalogued systematic racist bias. Two police officers were shot and wounded during the protests.
Organisers insist the shooter, or shooters, did not come from demonstrators' ranks.