Former Greene County Sheriff Major Eric Spicer was sentenced to five years in federal prison Monday after being convicted in December on two out of seven counts related to the acquisition and possession of a machine gun.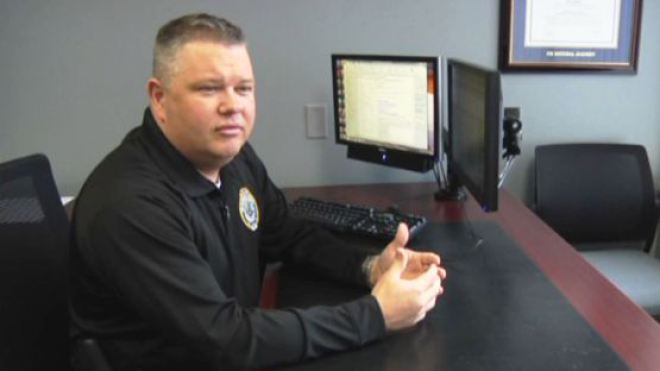 In addition to this, Spicer is also banned from owning guns in the future and was fined $1,800. Spicer must also complete 100 hours of community service.
An appeal is being planned by his attorneys.
U.S. District Court Judge Michael Barrett handed down the sentence during a hearing in Dayton's U.S. District Court.
Prosecutors had recommended a sentence for Eric Spicer from 41 to 51 months, much longer than the two-year prison term initially suggested by a pre-sentencing investigation report. The judge can accept or reject any sentencing ranges suggested by attorneys or the probation office.
Spicer was found not guilty by a jury on five other counts after a December trial and the prosecutors asked Barrett to make findings due to a preponderance of the evidence — and therefore a longer sentence — despite Spicer's acquittal on five charges.
A prosecutors' sentencing memorandum asked Barrett to consider a "pattern of deception, dishonesty, fraud, unethical and otherwise criminal behavior."
Defense attorneys tried to get Barrett to overturn the conviction, but Barrett ruled against that motion.
Spicer, 45, admitted during the trial to signing Sheriff Gene Fischer's name on documents and using his own money to acquire a Heckler and Koch HK416 machine gun, but testified he did so with Fischer's knowledge and approval.
Spicer was found guilty of knowingly possessing a machine gun and of possessing a gun that was not registered to him in the National Firearms Registration and Transfer Record. However, Spicer was found not guilty on five counts related to falsifications on documents to purchase and register the gun and misrepresenting himself as a police officer.
Spicer had the machine gun seized from his residence by Alcohol, Tobacco, Firearms and Explosives (ATF) agents on March 28, 2014, about 22 days after Spicer was fired. He has appealed his termination. The appeal is ongoing.
Before his March 6, 2014 firing, Spicer had been on administrative leave since a July 31, 2013 shootout in Yellow Springs that ended in the death of resident Paul E. Schenck Jr. Spicer was not named as the law enforcement officer whose bullet killed Schenk. That incident was not mentioned at trial.