Glock enthusiasts have been talking about one thing and one thing only over the last several years; and that is a single stack 9mm Glock. The market is already saturated with many popular single stack 9mm handguns like the Kahr Arms CW and CM series, the Smith & Wesson M&P 9mm and the Springfield Armory XD-S 9mm.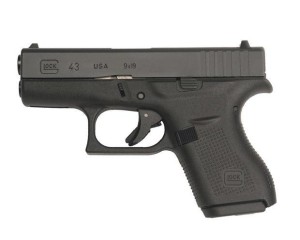 Fans of Glock, however, have been anxious for many years to see Glock's take on the design. And many believe that a recent post on Glock's Facebook page could be a teaser of the much awaited model 43.
On Friday, Glock posted an image to their Facebook page and it already has a lot of people talking. The image appears to be some sort of teaser ad for something that's going to happen this spring. It shows a small recoil spring assembly on a black background with the words, "This Spring." It doesn't seem like much but with Glock's interesting methods when it comes to teasing new products, many believe it could be a sign that a new product is coming out in the spring. And surely, they believe, if it is a new model 43, it must be the single stack 9mm.
Digital Journal was one of the first to report on Glock's initial teaser as for the model 42 back in December of 2013 and many believed that was the much anticipated single stack 9. As it turned out, however, the model 42 was a single stack .380 caliber; and while it has been a fairly popular firearm, Glock still had several disappointed customers.
The most recent addition to the Glock lineup was the model 40, a long slide optics-ready 10mm pistol that was released at this year's SHOT show in Jaunary. It, however, didn't get nearly as much hype as the models 41 and 42.