Montreal police say they're well prepared to handle a potentially violent protest scheduled to coincide with Montreal's 192nd St. Patrick's parade. Parade organizers say they wish protesters would give peace a chance and opt for celebration over confrontation.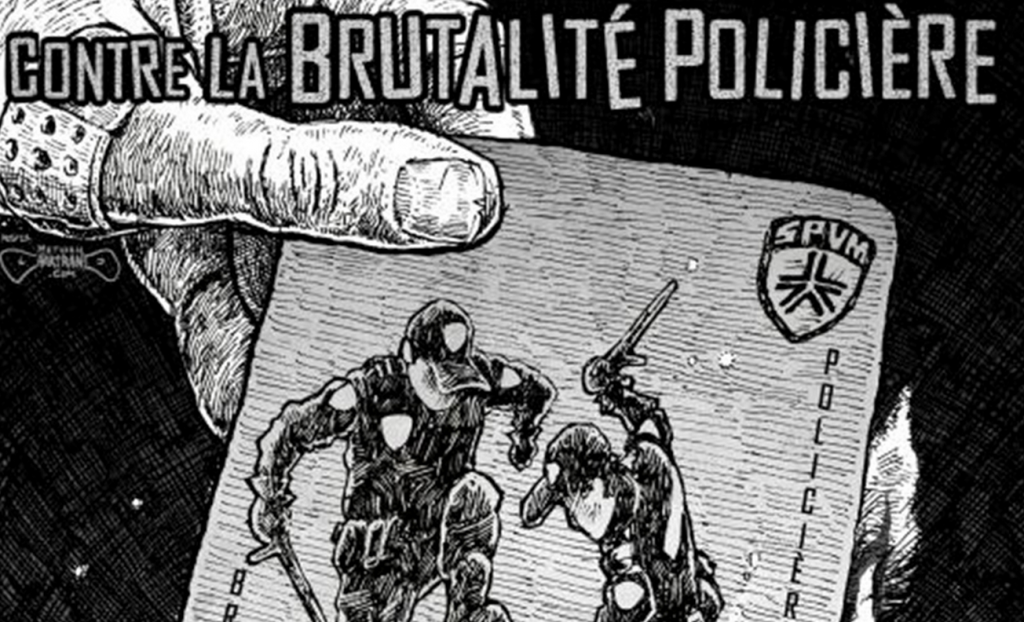 The Collective Opposed to Police Brutality, renowned for yearly anti-brutality marches that habitually devolve into vandalism and mass arrests, announced it is organizing a demonstration to run at the same time as the parade, starting a block away from the parade route down Ste-Catherine St. There will be 3,000 people participating in the parade this year, and as many as 250,000 spectators, many of them children.
The collective posted an invitation on its website exhorting followers to join the Manifestation "La St-Patrak" (a play on the French word for a policeman's billy club — matraque.)
"Come join the Saint-Patrick's Day parade! The dress code is green!" the invitation reads, over a picture of a masked man preparing to throw a brick.
The demonstration is scheduled for March 22 at 1:30 p.m., at the corner of Guy St. and de Maisonneuve Blvd. The parade starts at noon at Fort St. and runs east along Ste-Catherine St. Floats will still be going by Guy St. at 1:30, parade organizers said.
Police said they know the group's intentions and have plans to handle rowdy demonstrators, without divulging tactics.
The collective has been organizing demonstrations coinciding with worldwide police anti-brutality day — March 15 — since 1997. Most ended in mass arrests after store windows were smashed and, in some cases, police cars were overturned. In recent years, police have started shutting down the demonstrations often before they start. Last year, police quickly declared it illegal because no itinerary was provided and surrounded roughly 300 protesters. Five were arrested and 288 were given tickets.
The collective plans to hold its annual March 15 protest this year, starting at the corner of Berri and Ontario Sts., beginning at 3 p.m. A spokesperson for the group told La Presse it didn't plan to interfere in the St. Patrick's parade, but to demonstrate beside it.
"If it goes out of control, it will be the police's fault, not ours," said a spokeswoman who would not give her full name. She added that she expected it to go out of control.
The collective claims St. Patrick's parade organizers moved their scheduled date from March 15 to March 22 for fear of running into the anti-brutality demonstration. So the collective decided to show it's "agility" and organize an additional demonstration.
Parade spokesman Kevin Murphy said organizers switched dates due to numerous other events going on the weekend of March 15, and in the hopes of hitting warmer weather, not because of anti-brutality march.
"We're definitely disappointed to hear they are going to demonstrate at the same day and time," Murphy said. "This is not a political parade, it's a parade celebrating Irish heritage along with different cultures in Montreal, celebrating Montreal, and that spring is finally arriving. It's a family event."
He suggested demonstrators opt to party instead of protest.
"In all honesty, we would be happy if instead of demonstrating they choose to come down to Ste-Catherine and celebrate with us and everybody else that has come to watch the parade," he said. "Just come celebrate."