The family of Nicholas Thomas has a meeting scheduled for 1:30 this afternoon with the chief of the Smyrna (GA) Police Department. They want the GBI to handle the investigation into the death of their 23 year old son. He was shot and killed on Tuesday, March 24, 2015, by officers who say they were in fear for their lives when they pulled the trigger.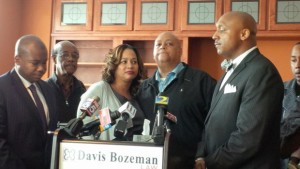 They say they'd gone to the Goodyear tire store on Cumberland Parkway to serve a warrant. They say Thomas, who worked at the tire store, tried to run them over with a car. Attorneys for the Thomas family say that witnesses tell a different story.
Smyrna Police Chief David Lee is quoted as saying that he feels confident that the Cobb County Police Department can objectively investigate. At the time of the shooting, Cobb County Police were serving backup for the Smyrna officers.
The family is calling for an independent investigation into the shooting that claimed their son's life. Huey Thomas, Nicholas' father, says that he has reached out to President Barack Obama for assistance. Nicholas' mother, Felicia Thomas sees her son's death as a call to action. She also says that she wants to know the name of the officer who shot and killed her son.
A vigil is planned for Tuesday, March 31, 2015, 7:00 pm outside Smyrna City Hall.
I spoke to the family this morning, including Nicholas' parents, his brother T.J. and Cajun Snorton, the mother of Nicholas' four and-a-half month old daughter. Attorneys Robert Bozeman and Mawuli Davis also talked with me this morning.