Four journalists arrested while covering racial unrest in Ferguson, Missouri, last year filed a lawsuit Monday claiming they were battered and falsely arrested by police trying to hinder their ability to cover the protests.
The journalists claim in their lawsuit that police officers used excessive force and intimidation tactics, including shooting at them with rubber bullets, to try to stop the journalists from recording police activity.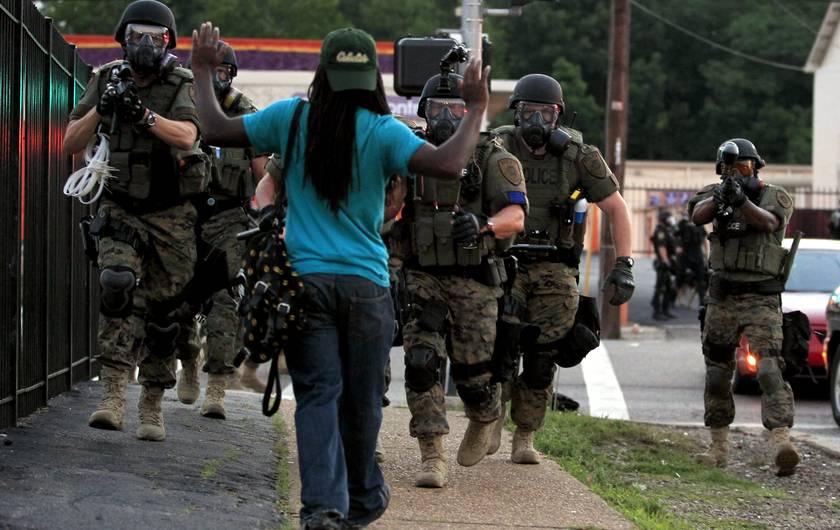 Sometimes violent protests erupted in Ferguson, a St. Louis suburb, after the Aug. 9 fatal shooting of an unarmed black teenager by a white police officer. Protesters from around the country converged on the small community, and the state brought in police officers from around the region, as well as the National Guard, to try to quell the unrest.
The lawsuit, which was filed in U.S. District Court for the Eastern District of Missouri, names as defendants the St. Louis County Police Department, and 20 of its officers who were sent into Ferguson to help provide security, as well as St. Louis County.
The suit was brought by Ryan Devereaux, a journalist with Intercept/First Look Media; Lukas Hermsmeier, a freelance journalist for German news outlets; Ansgar Graw, a political correspondent for German news outlets; and Frank Herrmann, a correspondent for German newspapers.
There was no immediate comment from St. Louis County or the police department.
The lawsuit does not name the 20 officers sued as defendants, but states that they were working on Aug. 18 and/or Aug. 19 when they encountered the plaintiffs.
Devereaux and Hermsmeier claim they had been interviewing protesters and were attempting to return to their car when police shot them with rubber bullets and then arrested them and left them in handcuffs for several hours.
Graw and Herrmann claim they were attempting to interview people and take photos just before they were also arrested and detained in painful plastic handcuffs that left their hands numb.
The lawsuit claims the actions against the journalists were part of a "concerted effort to suppress constitutionally protected newsgathering."