Citing public safety concerns, Gov. Earl Ray Tomblin has vetoed a bill to eliminate requirements for people carrying concealed handguns to have permits.
"Throughout my career, I have strongly supported the Second Amendment, as demonstrated by my repeated endorsements and high grades from the National Rifle Association. However, I must also be responsive to the apprehension of law enforcement officers from across the state, who have concerns about the bill as it relates to the safety of their fellow officers. It also would eliminate the required gun safety training courses for those applying for a concealed carry permit. In light of these concerns and in the interest of public safety for all West Virginians, I have vetoed Senate Bill 347," said Gov. Tomblin.
The National Rifle Association-backed Democrat said Friday's veto responds to an outcry by law enforcement against the bill.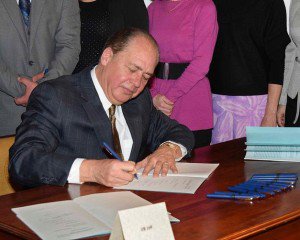 Arkansas, Alaska, Arizona, Vermont and Wyoming have passed similar laws.
Open carry, like a holster on a hip, is legal without permitting in West Virginia. Thirty-one states have similar open-carry rules.
Covering handguns up with a coat, for instance, requires a permit.
The bill would require concealed handgun carriers to be at least 21, with military exceptions.
The state Sheriffs Association opposed the bill, saying it could let more dangerous people carry concealed weapons and take away permit money that helps local law enforcement.
Proponents cited 2nd Amendment arguments.
The House passed the bill 71-29 while the Senate gave final approval to it with a 30-4 vote during the Regular Legislative Session last week despite opposition from law enforcement officers.