A Denver Police Department officer was charged with drunk driving in Arapahoe County has become the third officer to be arrested in the past three weeks.
According to court records, Eric Sellers, 54 who was hired in 1995, was arrested Feb. 26 in Arapahoe County and was charged with drunk driving, careless driving and possessing a weapon while intoxicated.  He was placed on a "non-line assignment" according to a Denver PD spokesman.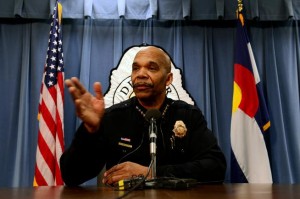 Sellers is the second cop to be charged with driving under the influence. A third cop was charged with a misdemeanor assault in connection with a domestic violence case.
In October, police chief Robert White launched a resiliency program to address substance abuse within the ranks after a rash of alcohol-related arrests involving cops.  According to the police chief, these recent arrests do not necessarily indicate that the program is ineffective.
"We don't see anything we missed," Jackson said. "The program is working and we're better off with it than without it."
Earlier this week, Officer Jean Keita was arrested on suspicion of drunk driving after he was involved in an off-duty accident in Green Valley Ranch.  Officer Todd Parro, 54, was charged Feb. 24 with third-degree assault in Commerce City.
Keita and Parro also are on non-line assignments, pending their investigations.