The last time Amber Arriaga-Salinas saw her husband, alleged computer hacker Fidel Salinas, was on a Friday afternoon, on Feb. 13th. Shortly after Amber's husband remanded himself into the custody of the US Marshals, he was placed into solitary confinement, with no possibility of contacting his family, his attorney, or his doctor.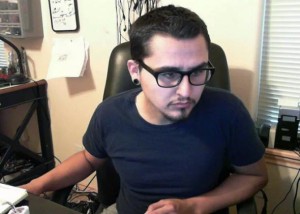 Fidel faced up to 440 years in prison for allegedly disrupting the normal operation of a government web server in Hidalgo, Texas for a single day. Fidel caused no lasting damage, leaked no secrets, and stole no identities, but was nevertheless charged 44 counts of computer fraud under the Computer Fraud and Abuse Act. Facing a possibility of over four centuries of prison time, Fidel plead out to a single misdemeanor, for which he was sentenced six months and a $10,600 fine.
TruthVoice gained access to a transcript of Salinas's interaction with the FBI shortly after his arrest. The transcript indicates Fidel believed he had done nothing wrong, and that he did not know why he was arrested.
TruthVoice also contacted Amber Arriaga-Salinas for an update on Fidel's treatment at the hands of the US penal system, following reports that he was being moved from facility to facility and kept in a small cell with almost no human contact for days on end, being denied his prescribed medication.
Amber reported that Fidel had been told his medication was "lost" after the first day he was transferred to the Karnes Correctional Facility, approximately a week after his sentence began. A representative from the facility could not be reached for comment.
"The last time I spoke to him… (he) said the doctor told him he wouldn't be getting his medication, but gave him no reason as to why," Amber said.
Fidel Salinas was prescribed medications to treat an anxiety disorder, which his wife Amber says is genetic. Anxiety disorders are known to be exacerbated by solitary confinement, as the conditions cause a heightened and persistent state of anxiety.
Fortunately, after weeks of maltreatment, Fidel was transferred to the medium security FCI Three Rivers Facility and allowed to contact his family. Amber reported that Fidel was still not receiving his medication, but that he is no longer being held in solitary confinement.