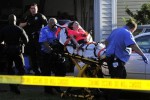 A woman in Huntsville, Alabama was shot by cops because she was holding the shotgun she had just used to shoot her estranged husband after he broke into her house, the Huntsville Times reported.
Bradley Skinner allegedly broke into the house his estranged wife, Lisa Skinner, shared with her mother and allegedly tried to kill her. He reportedly was carrying a pistol and a large knife.
Mrs Skinner told her mother to flee to the neighbor's house before arming herself with a shotgun and going into the garage of her house. Her husband followed and pointed his pistol at the woman, who fired her weapon and left him with life-threatening injuries.
Police – who reportedly were called by Mrs Skinner's mother – arrived on the scene in time to hear the shotgun blast. Officers told Mrs Skinner to drop her weapon, but instead she turned on the officers with the gun, prompting one officer to shoot her.
Mrs Skinner is expected to make a full recovery, but her estranged husband still is fighting for his life, according to reports. The officer who fired the shot has been placed on administrative leave, per department policy.
The troubled couple reportedly had domestic problems prior to the shooting and Mrs Skinner had a restraining order against her husband.