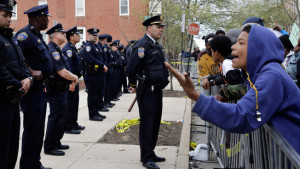 The Baltimore Police Department says they have received a credible threat that numerous gangs have entered into a partnership to "take-out" law enforcement officers.
According to the department, they have received credible information that various gangs including the Black Guerilla Family, Bloods and Crips have entered into the partnership.
"Law enforcement agencies should take appropriate precautions to ensure the safety of their officers," the departments says in a press release.
Capt. Eric Kowalczyk, the agency's chief spokesman, said he could not immediately elaborate on how the information was received or why police found it credible. He would not say whether it was believed connected to the ongoing demonstrations regarding the death of Freddie Gray.
In December, the Baltimore FBI office issued a memo that the Black Guerrilla Family gang was targeting "white cops" in Maryland, an agency spokeswoman confirmed.
The memo, circulating among officers, said a contact who had given reliable information in the past said members of the gang — connected to the high-profile corruption scandal at the Baltimore City Detention Center — were planning to target white officers to "send a message."
And in January, police were on heightened alert after a man brought a gun into the Northeastern District police station with a handgun and said it was part of a "security test" ordered by the BGF.
This threat comes after 25-year-old Freddie Gray was arrested for possessing a switch blade knife April 12 in Baltimore. According to his attorney, Gray died a week later in the hospital from a severe spinal cord injury he received while in police custody.