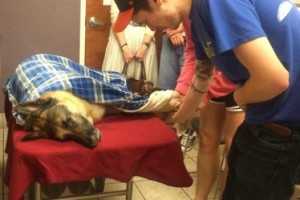 A New Jersey family's German shepherd was shot multiple times by a Wyckoff, New Jersey police officer and died on Wednesday during a burglary call when the officer went to the wrong address, reports NJ.com.
According to Wyckoff Police Chief Benjamin Fox, a burglary call came into the station for 621 Lawlins Road. Officer Kyle Ferreira mistakenly went to 622 Lawlins Road; no one was home. As the officer investigated the property for any signs of an intruder, he entered the backyard through an unlocked fence gate.
A window was open in the rear of the home, and the officer drew his gun thinking the burglar could have gained entry. At that moment, the family's German shepherd, named Otto jumped out of the window and grabbed the officer by his boot.
The officer fired four times; two shots hit the dog.
According to the CliffviewPilot.com, witnesses claim that Otto was shot from a few feet away in his chest and the officer "approached the dog at close range and fired a bullet through his back." Neighbors stated they told the officer that Igor and Olga Vukobratovic's home was the wrong house.
The dog later died at the veterinarian office after a prolonged wait at his owner's home before being permitted to be transported for emergency treatment.
The homeowners were notified and stated they left the window open so the dog could go out into their fenced yard to relieve himself. When the family arrived home, an officer allegedly told the family:
"There was a burglary in the area. Luckily it wasn't your house – but we shot your dog."
Otto was a family dog and never showed any aggression; he was in his own home and protecting his own house. The officer had no injuries. A family friend, Chris Scala sadly stated Otto was a great, well behaved dog.