For Brandon Schreiber, seeing surveillance video of an off-duty Denver police officer suddenly shoving him down a set of stairs in LoDo made him believe his gut.
"I had a gut feeling he had done this multiple times to other people. I just thought, I wanted this guy to be exposed," Schreiber said.
That guy is veteran Denver Police Officer Choice Johnson.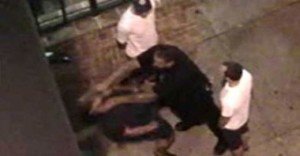 In July 2014, Johnson was working security while off-duty at The 1UP bar in LoDo, where Schreiber was celebrating a bachelor party for his brother.
Schreiber's brother had fallen asleep at the bar and Schreiber was trying to convince Officer Johnson, who had the brother handcuffed, not to take him to a detox center.
"And that's when Officer Johnson snaps," Schreiber recalled.
A city surveillance-camera video shows Schreiber standing with his hands in his pockets when suddenly the officer lunges at him, violently shoving him backward to the ground.
"He spends 30 seconds hitting me in the face or neck with his forearms.  He turns me over and grabs my arms. I remember the feeling vividly, both my shoulders just tearing," Schreiber described.
The attack left the physician's assistant with torn rotator cuffs in both shoulders. Now the officer has been suspended for 30 days without pay. He's appealing that punishment.
"Should this officer still be working for the city?" asked 7 NEWS reporter, Molly Hendrickson.
"I don't believe so," Schreiber said.
Schreiber was initially arrested for police interference and resisting arrest, but the charges were dropped seven months later when prosecutors reviewed the video footage.
"Were you resisting arrest?" Hendrickson asked.
"No, this guy had his full-body weight on me which apparently is 260 pounds. There was nothing I could do," Schreiber said.
Schreiber is now represented by Siddhartha Rathod, a Denver attorney who has successfully settled high-profile excessive-force cases against Denver law enforcement agencies.

"It's the historical failure of Denver to discipline its officers. Its officers see they can engage in this type of conduct and get away with it time after time after time," Rathod said.
Rathod said the case highlights why all Denver Police officers should be required to wear body cameras both while on duty and while working off-duty jobs.
"Even in this case, where the officer was finally disciplined, it took nearly eight months for this officer to be disciplined," Rathod said.
Denver's Independent Monitor, Nick Mitchell, issued a report last month recommending requiring officers working off-duty to wear body cameras as Denver considers expanding use of the cameras to all patrol officers.
Schreiber was right. This isn't the first time Officer Johnson has been disciplined for using excessive force.
7 NEWS found Johnson has a history of complaints where citizens accuse him of using excessive force while he's working security off-duty but in uniform at Denver nightclubs.
The officer has been discipline at least twice for using force against people and failing to report it to his supervisors.
On June 7, 2013, Johnson denied using force against a man who was accused of fighting with employees at Marlowe's restaurant.
Then an investigator played Johnson a restaurant surveillance video showing the officer using a "reverse headlock" on the man, according to a disciplinary report obtained by 7 NEWS.
"After seeing the video [Johnson] realized he did use force in this incident," the report states. Asked why he didn't make the required use-of-force report to his supervisor, Johnson replied, "I just wasn't thinking."
He was given written reprimands for failing to report the use of force to his command officer and failure to "accurately and completely" file required reports.
In a June 2007 incident at the Bash Nightclub, a woman said Johnson slammed her against a wall and choked her, opening a cut over her eye.
The woman said Johnson then took her to the club's office and poured water over her cut eye and used her own shirt to wipe away the blood, a disciplinary report states.
Johnson acknowledged that he could have injured the woman's eye when he put her against the wall. But he said he didn't remember any blood.
Yet, Johnson arrested the woman for interfering with police and her arrest photo showed a fresh cut over her right eye, internal affairs investigators noted in their report.
Johnson was reprimanded in that incident for failing to report his use of force to a supervisor and for arresting someone resisting and/or interfering with police without receiving approval from a supervisor.
7 NEWS found at least nine other use-of-force complaints against Johnson. But internal affairs investigators decided the misconduct incidents were not sustained.
Brandon Schreiber said that's one reason he wants to hold Johnson accountable, so no one else endures what he happened to him.
"It's not about money. It's about getting the right people doing the right job.  I think this guy is clearly not doing the job," Schreiber said.