A fired Phoenix police detective is asking for his job back in the wake of an investigation into alleged police brutality.
"I just tasted the blood," said 18-year-old Patrick D'Labik, remembering the moment Detective Kevin McGowan stomped D'Labik's back, sending his face into a convenience store floor.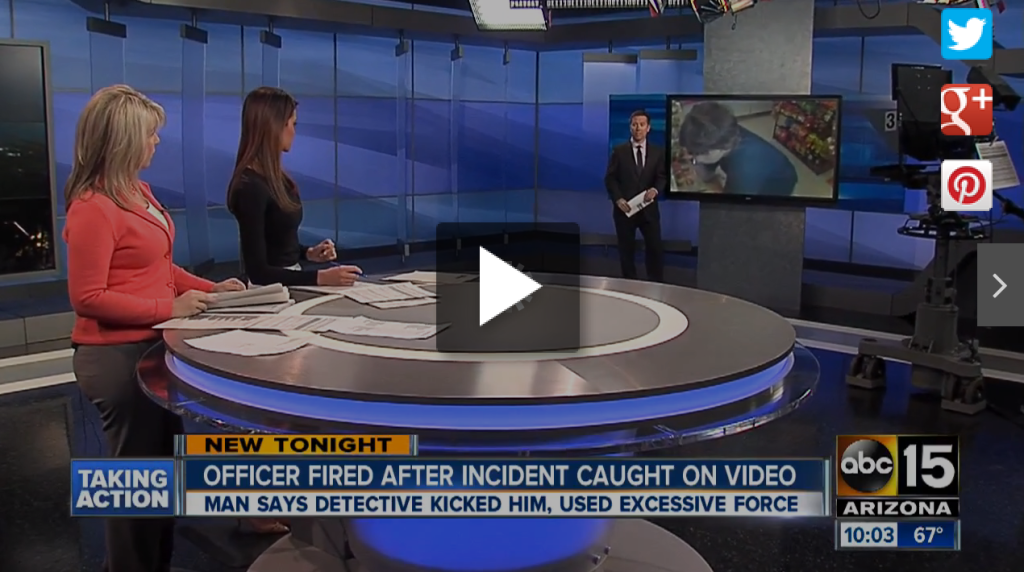 "As soon as I spit, I realized my teeth was out," D'Labik said.
McGowan told police internal affairs investigators that he stomped D'Labik's back because he was not obeying commands.
The incident, in late December of last year, began when McGowan stopped D'Labik, who was walking near 38th Street and McDowell Rd.
McGowan wanted to ask D'Labik if he had any information about a homicide suspect.
D'Labik, who feared the officer would discover the marijuana in his pocket, ran.
McGowan caught up with D'Labik in a convenience store. A surveillance video without audio shows McGowan, gun drawn, approaching D'Labik. D'Labik, who had his hands up, begins to get on the ground.  When he is in a "push up" position, McGowan stomps him in the upper back. That sent D'Labik's face into the floor. He lost several teeth.
"There was no need for it at all," D'Labik said. "It makes me angry and it still makes me angry."
The Phoenix Police Department fired McGowan, a decision the detective is appealing through the City's Civil Service Board.
A Phoenix police spokesman released the following statement:
The use of excessive force will not be tolerated by the Phoenix Police Department, but because this case is currently being appealed we cannot discuss the specifics and will respect the civil service process."
McGowan's personnel file shows that the department hired him in late 1997.  Of a handful of complaints against him, only one was substantiated.  He received a written reprimand after shoving a citizen in 2013 after the citizen got in his "personal space.
McGowan's attorney released this statement:
Officer McGowan is a decorated 17-year veteran of the Department. He earned dozens of commendations and has no significant prior discipline. The video obtained by the media does not show the complete series of events related to this detention/arrest.
The entirety of this incident, including the video, was reviewed by an independent expert and by a panel of attorneys at the Maricopa County Attorney's Office.
These reviews resulted in a determination that no crime was committed by Officer McGowan. Officer McGowan filed an appeal of his termination and is looking forward to being reinstated to complete his career with the Phoenix Police Department.
Officer McGowan will not be giving any interviews related to this incident, and this will be the only statement he will give related to this matter, as his appeal is currently pending before the Civil Service Board.