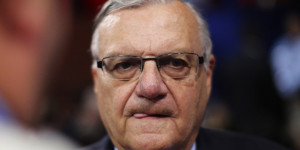 Infamous Maricopa County Sheriff is requesting a new judge to handle his trial, and is also seeking help from the public for his legal fees.
Arpaio is currently on trial and awaiting judgment from US District Judge Murray Snow on whether he failed to adhere to a 2011 court order that required him to refrain from bias in treatment and investigation of minorities.
In a letter to his supporters, Arpaio says he doesn't have enough money to pay for his attorneys, and claims he is the victim of unfair targeting by immigration rights groups who are suing him for alleged racist policies that target the Latino community.
"In some instances I have to personally pay for attorneys to represent me in these cases. I do not have the personal wealth or the wherewithal to keep up with the costly demands of paying for attorneys to defend me."

— Maricopa County Sheriff Joe Arpaio
Arpaio has filed a motion for Judge Snow to be replaced because he believes the judge is personally connected to the case. Arpaio claims his former attorney authorized a secret investigation of Snow's wife.
"No reasonable person with knowledge of the facts can deny that Judge Snow is now investigating and presiding over issues involving his own family," wrote Arpaio's attorneys in their filing.
In 2013 Snow ruled that the sheriff's office was engaging in racial profiling targeting Latinos during immigration patrols and traffic stops.
Arpaio has successfully had a judge removed from a case in the past. In 2009, Arpaio's attorneys had US District Judge Mary Marguia removed from the profiling case, alleging she was also too close. Marguia's sister is the leader of a Latino rights organization.
He is currently scheduled to appear in court this June, but the date may be affected by his filing.