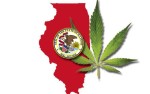 SPRINGFIELD, Ill. — A bill reducing criminal penalties for cannabis possession passed the Illinois Senate on Thursday, allowing it to move on for consideration by Governor Bruce Rauner (R-IL).
HB 0219 would make possession of up to 15 grams of marijuana a violation roughly equivalent to a traffic ticket with a fine of $125. If the bill passes, people in possession of under 15 grams of cannabis will not be jailed for the "offense."
Cannabis possession of up to two grams currently carries a penalty of up to 30 days in jail and a fine of up to $1,500. Possession of an amount over 10 grams is a felony that could result in a heftier fine and up to a year in prison.
Illinois lawmakers have been pressured to reduce the population of the state's jails and prisons, following the governor's announcement that he plans to reduce their population by 25 percent over the next decade.
The bill is opposed by some state Senators because it does not have a limit on how many times a person can receive a ticket, and does not include any guideline on when someone convicted of marijuana possession should be made to receive drug treatment.
The majority of Illinois legislators see the bill as beneficial, however, reducing the stigma on cannabis users perpetuated by the legal system. State Senator Michael Noland (D-IL) is among them.
"It's wrong, and I would encourage the children of this state and my own children to abstain from the use of the substance, but people do use this, and it should not be something that ruins social lives and professional lives as well. People have been arrested at very young ages for this and have suffered the consequences."

— Illinois State Senator Michael Noland
Illinois is one of 23 states where the medical use of cannabis is legal. 15 other states have some degree of decriminalization, with Washington DC and four other states having legalized recreational cannabis use.