Three cops arrested for the murder of unarmed Baltimore man Freddie Gray were apparently taken to jail without police even bothering to place them in handcuffs.
Officers William Porter, Edward Nero, and Caesar Goodson Jr. were photographed leaving a police vehicle while completely free of any sort of restraint. TruthVoice obtained the photographs from the Baltimore Sun.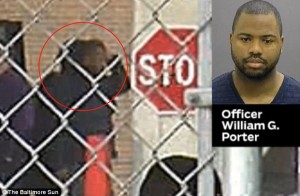 Goodson, who faces a second-degree murder charge, was even allowed to give an officer a hug before continuing on his way.
Defense attorneys for the six Baltimore cops, whose charges in connection with Gray's death range from assault to second-degree murder, have requested the trial be moved to another city. The attorneys claim it is too difficult to find an unbiased journey in order for their client to receive a fair trial.
Since Gray's death in April, there have been frequent protests in Baltimore. The US Justice Department released a statement saying it intends to conduct an investigation of the Baltimore Police Department.