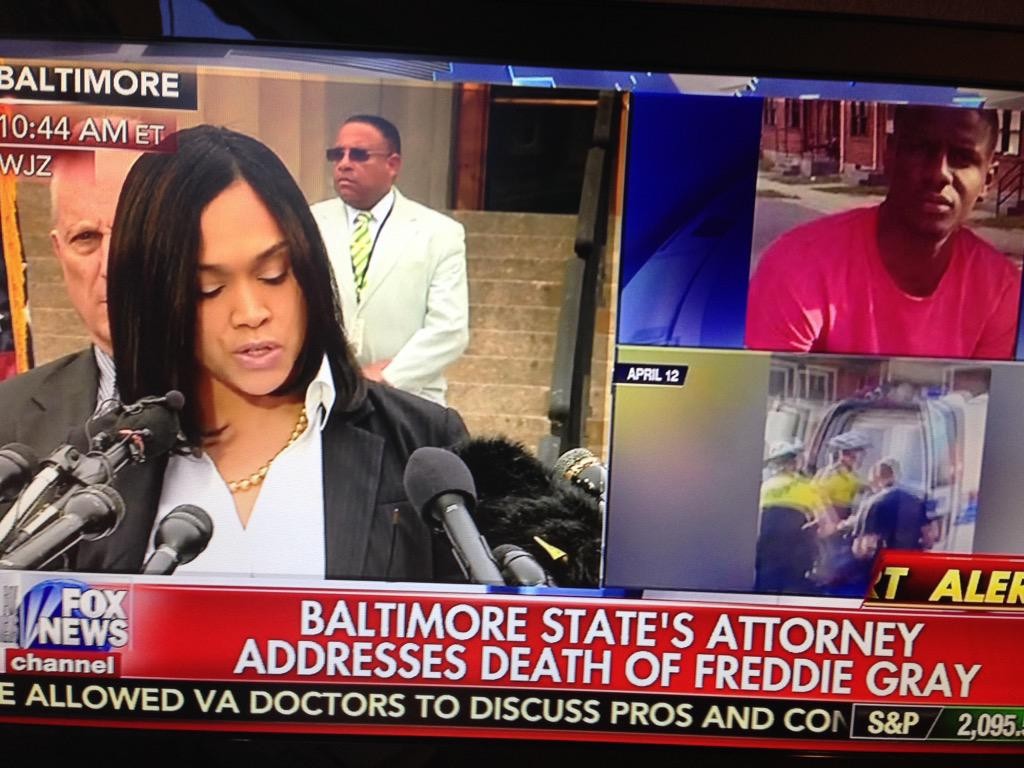 CORRECTION: It appears that all police officers involved are being charged.
11:15 EST UPDATE:
City State's Attorney Marilyn Mosby says Freddie Gray received his critical injuries in Baltimore police custody and has charged all six officers involved in his death.
The state medical examiner's office turned over Gray's autopsy on Friday morning, a day after the police turned over their investigation into Gray's death.
"The findings of our comprehensive, thorough, and independent investigation coupled with the ME's determination that Mr. Gray's death was a homicide which we received today, has led us to believe that we have probable cause to file criminal charges."
Mosby said she is charging all six officers in the death of Gray and his illegal arrest.
"Following transport from Baker Street, Mr. Gray suffered a severe and critical neck injury as a result of being handcuffed, shackled by his feet and unrestrained inside of the BPD wagon," Mosby said.
"At no point was he secured by a seatbelt while in the wagon contrary to a BPD general order, Mosby added. "Despite stopping for the purpose of checking on Mr. Gray's condition, at no point did he seek nor render any medical assistance for Mr. Gray."
The officers are being charged with a number of manslaughter, assault and misconduct charges.
Warrants have been issued for the officers involved in the death of Freddie Gray.
The Baltimore Police Fraternal Order of Police No. 3 issued a letter to Mosby Friday morning.
Original story:
Maryland State's Attorney Marilyn J. Mosby announced criminal charges against two policemen involved in the arrest of Freddie Gray, which she declared "a homicide" and "an illegal arrest." She also said the knife Gray was carrying was not illegal.
Lieutenant Brian Rice, 41, Sergeant Alicia White, 30, and Officers William Porter, 25, Garrett Miller, 26, Edward Nero, 29, and Caesar Goodson, 45.
Mosby said that Gray was not secured in the van by the seat-belt, which led to his death. During one of the stops policemen checked on Gray, saw that he was unresponsive, but failed to have any actions.
Baltimore police have sent its report tot he state attorney a day earlier than expected.
On Thursday new details about Freddie Gray's arrest emerged. Police announced that the van carrying him made another stop that was previously unknown.