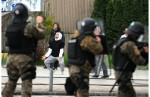 What happens when a government decides to treat an ethnic minority with brutality and violence? They stand up and decide to fight back.
The death toll now stands at 22, after fighting between police forces and minority Albanians labeled as "terrorists" continued for a second day in the Northern Macedonian town of Kumanovo. The government claims that these individuals were ready to bomb public buildings, however their attacks seem to be focused only on police forces.

This is a story largely ignored by Western journalists, and that is the story of Macedonian Government abuses and police brutality aimed at ethnic minorities. In addition to the armed exchanges, thousands of protesters have been clashing with police throughout the country after revelations of illegal police wiretapping and the cover-up of an Albanian's death in custody in 2011.
These riots are also related to the poor treatment of minority Albanians in Macedonia and political appointments which appear to be political favors.
About two weeks ago, authorities said a group of about 40 people wearing uniforms of the disbanded ethnic Albanian Kosovo Liberation Army, or UCK, attacked a police watchtower in Gosince on Macedonia's northern border with Kosovo and briefly captured four Macedonian police officers.
More fighting broke out during an early morning raid on Saturday in an ethnic Albanian part of the town of Kumanovo.
Police are continuing to search houses in the area. Some residents have been accused of sheltering the fighters.
Interior Minister Gordana Jankulovska said police were attacked with bombs and automatic rifles, and that the group had been planning attacks on state institutions.
She described the five officers killed as "heroes who gave their lives today for the Republic of Macedonia".
Government officials appear to have been using ethnic differences between ethnic Macedonians and Albanians as the excuse to crack down violently on protests and use illegal wiretapping on activists involved in the protests.