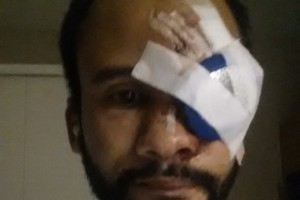 Jerome Hill, 31, who described himself as a six-year U.S. Army veteran who served in the Iraq War, said in a lawsuit filed Thursday in U.S. District Court in San Francisco that he was forcibly removed from a car parked near his home on June 2, 2014, by Fairfield police Sgt. Rebecca Belk and Officer Michael Ambrose.
During a struggle, the officers Tased him in his left eyeball, back and thigh, according to the lawsuit.
"While plaintiff was face down on the ground, screaming in pain and covering his bleeding left eye, defendants fired their Tasers into plaintiff's buttocks," the suit says. Hill was handcuffed, and he "lay on the asphalt street with blood oozing from his left eye."
After the Taser dart was removed by doctors at a Fairfield hospital, his left eye was also removed "as it was pulverized by the barbed Taser electrode," the suit says.
In November, Hill posted a 10-minute video on YouTube that appears to show the incident from Belk's body camera. Warning: explicit language.
"Look out, Mike, I got Taser," Belk says to Ambrose before she deploys the shock weapon. "Get on the ground!"
"Put your hands behind your back!" both officers can be heard yelling at Hill, who apparently yells, "You hit me in my eye! Goodness, man! What did I do wrong? You didn't even read me my rights. Oh my goodness. Police brutality, man." He is then heard screaming in pain: "My eye!"
Fairfield police declined to comment on the lawsuit, citing a policy of not discussing pending litigation.
On the video, police are heard saying that they stopped a car parked on the street and that the occupants, who included Hill, his younger brother and a female friend, were acting suspiciously.
The suit names the city of Fairfield, the Police Department, Belk and Ambrose as defendants.
This story reported by Henry K. Lee for SFGate.