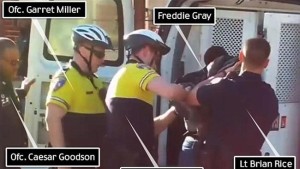 A police officer charged with the murder of Freddie Gray in Baltimore, Maryland, has ended up with less bail on him than a black teenager, who smashed a police car late last month.
Both incidents happened in the same city and were only days apart, but, according to civil rights activists from Baltimore, this specific case further shows the tilted justice system that favors police more than the citizens of the city, who happen to be mostly black, according to official demographics.
Allen Bullock, 18, turned himself into police because he was wanted after the April 25 unprecedented riots in Baltimore, and according to local media, his bail was set by authorities at a whopping $500,000, a sum neither him nor his family can afford to pay.
Caesar Goodson Jr., a 45-year-old police officer, on the other hand, was arrested and charged with second degree murder in the death of Gray.
Goodson was also charged with several other criminal accusations on Friday, but had a much less $350,000 bail set on him.
Usually, according to laws in the US and elsewhere, bails are set based on past criminal record, the severity of the crime, and other factors.
The obvious difference in bails of the two men was highlighted by activists, including one who told local media that, "people in Baltimore often refer to bails as ransoms because they're impossible to meet."
It's not clear why the murderer of Freddie Gray was set with more bail than the person who smashed a police car.
Freddie Gray died on April 19, just a week after he was brutally beaten by police in Maryland sparking demonstrations and riots in the city and across the US to this day.