A New York City plainclothes cop who was shot in the head died on Monday, the fifth officer gunned down in as many months amid anti-law enforcement sentiment not seen since the turbulent 1960s, Police Commissioner Bill Bratton said. But instead of taking responsibility for abusing the general public for decades through an unconstitutional search and frisk policy, the commissioner blamed "anti-police sentiment" for the shooting.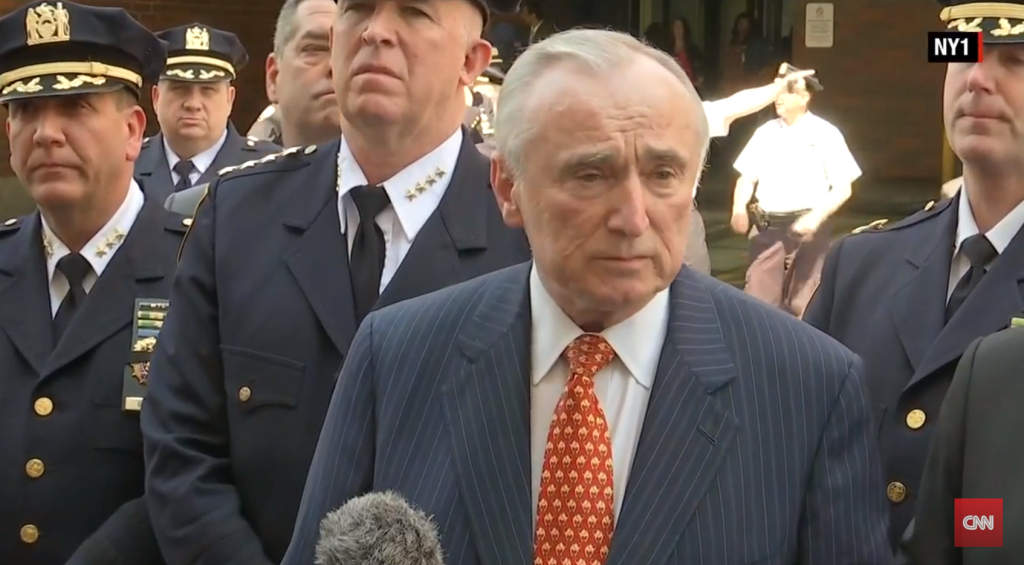 Cop Brian Moore, 25, was in an unmarked car pursuing Demetrius Blackwell for "adjusting an object in his waistband" when he was shot during the weekend in a residential neighborhood in the New York City borough of Queens, police said.
Bratton said the Queens district attorney on Tuesday would seek a first-degree murder indictment against Blackwell, 35, who was being held without bail on attempted murder, assault, weapons possession and other charges.
The shooting in New York comes amid months of mounting tensions after a series of unarmed black men died at the hands of police officers, the most recent in Baltimore where six officers were charged on Friday in the death of Freddie Gray.
Moore is the first New York City cop killed in the line of duty since two uniformed cops were ambushed last December. He was the fifth city officer shot in five months.
Bratton, speaking at a press conference late Monday, was asked for his perspective on the violence against NYPD officers amid nationwide protests over accusations of police brutality.
"You'd have to almost go back to the late 60s to early 70s to see a time when there was so much anti-police sentiment in the country," Bratton said.
"These are strange times," Bratton said.
Moore and his partner had been trying to question Blackwell, after they saw him seeming to adjust an object in his waistband, police said.
Police said Blackwell pulled out a gun and fired into the vehicle, striking Moore.
The weapon, which was later recovered, had been stolen in Georgia in 2011, Bratton said.
Moore, who came from a family of police officers, joined the New York City Police Department in July 2010, according to Mayor Bill de Blasio. He lived in the suburban Long Island town of Massapequa.
Uniformed officers who had kept vigil outside Jamaica Hospital in Queens saluted as Moore's body was taken away in an ambulance.
"The people of this great city should take pause this afternoon just to recognize the life of a brave young man who took an oath 4-1/2 years ago to keep the people of this city safe," said Police Chief of Department James O'Neill, who worked with Moore's father on the police force.
"That's what he was doing when he was brutally murdered just a few short days ago," O'Neill said.
The mayor, in a statement, expressed his sympathies.
"Our hearts are heavy today," he said. "Brian served with distinction and he put his life on the line each day to keep us all safe."
Unlike the shooting in Brooklyn days before Christmas of Officers Rafael Ramos and Wenjian Liu, who were targeted for being in uniform, Moore was in plainclothes and in an unmarked car, authorities said.
Two New York plainclothes officers were shot while responding to an armed robbery in the Bronx in January and survived their injuries.NYPD