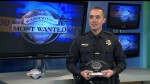 SEATTLE — A King County sheriff's deputy, who was last year awarded Officer of the Month, was fired after drinking himself to unconsciousness in the Tacoma Narrows and leaving his gun on the dock for teenagers to find.
Personnel records provided to The Associated Press under a Public Records Act request show Deputy Christopher Dearth was fired on May 1.
Deputy Dearth was the recipient of an Officer of the Month award, given to him by Washington's Most Wanted in April of 2014. The following months proved to be somewhat more lax.
The Associated Press writes:
In recommending his termination, Chief Deputy Jim Pugel wrote that it was clear the off-duty, 28-year-old Dearth not only operated a vessel under the influence Jan. 19, but also left his department-issued identification and firearm on the dock at the Narrows Marina — and assaulted the Tacoma police officers who responded. They nevertheless appeared to give him preferential treatment because he was a deputy, Pugel said. The gun was turned over to police by marina staff.
"There is ample evidence that the primary reason Deputy Dearth was not arrested and booked into jail for assault, obstructing and boating under the influence was because of his employment," Pugel wrote. "Anyone else who behaved in such a way and was not a police officer would most probably have been." No contact information for Dearth could be located, and the King County Police Officers Guild did not immediately return messages seeking comment, so it was not clear if Dearth intends to appeal his termination. Sgt. Stan Seo, a spokesman for the sheriff's office, said the agency had not been informed of any appeal.
Dearth is at least the fifth King County sheriff's official fired for misconduct since early last year. The others include a sergeant who sent lewd and racial text messages, a deputy who threatened to arrest a news reporter, a deputy who was found intoxicated and slumped over the wheel of his patrol car, and a deputy who helped his wife engage in prostitution. According to internal investigations files, Dearth was observed on around noon on Jan. 19 operating a small motor boat in an area of the Narrows Marina that is off-limits because of low-hanging power lines and telephone wires. Marina workers saw him get tangled in the wires and then head off, after having caused about $300 worth of damage.
About 90 minutes later, an unidentified photographer and some teenagers found the deputy's gun and wallet on the dock and alerted marina staff, who then gave the gun to police. At 3 p.m., a nearby resident called the fire department after seeing Dearth apparently unconscious in his boat, adrift. Fire personnel towed his boat back to the marina and arranged for his girlfriend to come pick him up. But two Tacoma police officers had also responded and tried to assess Dearth's mental state before giving him his gun back.
"Dearth initially ignored them but became verbally aggressive, accusing them of taking his firearm and demanding that they return it to him," Major Lisa Mulligan, chief of the SeaTac department, wrote in her summary of the case. "He became physically aggressive and generally belligerent when he was not allowed to leave on his own."
The officers decided to hang on to the weapon, and at one point, Dearth grabbed an officer's wrist and threatened to punch him in the face, Mulligan wrote. The officers later insisted that they didn't arrest Dearth because they were busy with other calls and because they would not have arrested any other drunk in a bar for behaving that way — a claim that Pugel wrote "does not pass the 'red face test.'"
Tacoma Police Department spokeswoman Loretta Cool said she couldn't comment on Pugel's findings. Her department's report on the incident makes no mention of Dearth being belligerent or grabbing the officers, Cool said. Dearth had previously been reprimanded for ignoring an order to break of a pursuit of a stolen vehicle, then ramming the suspect car.