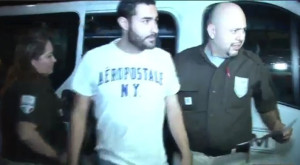 LOS ANGELES — Police say an ex-LAPD officer accused of murder was apprehended in Mexico on Tuesday after a two-month-long manhunt.
Henry Solis reportedly resisted his arrest when he was found by Juarez police, right across the Rio Grande, which separates the city from El Paso, Texas.
Officials at a Mexican state news conference said Solis told them he was going to be caught "sooner or later."
Mexican police spokesman Pablo Ernesto Rocha Acosta claims Solis was hiding with family members in El Mezquital, the Juarez neighborhood where he was arrested. Acosta did not say how police were able to find Solis, except that the arrest was assisted by technology and access to information from US police agencies.
Solis was deported Tuesday evening and will be held in federal custody in El Paso.
Solis was the target of an international manhunt for the March 13 murder of Salome Rodriguez Jr. in Pomona, California. Solis is alleged to have shot and killed Rodriguez, then fleeing the country.
Solis was fired a short time after the murder, and his father was charged for lying to federal agents about his son's whereabouts.
Rodriguez's mother Lidia was relieved when she received news of the arrest, saying "If it's true he got caught, hallelujah! We think this is God's work." Lidia said she's prayed that Solis would be found and arrested, and has held nightly vigils in the parking lot where her son collapsed after being shot.
Solis is a former Marine who served a tour in combat in Iraq, and had been employed by the LAPD for nine months. Police reports say Solis chased Rodriguez out of a bar in Pomona and shot him four times.
Solis did not show up for his job the next day, and later that night Pomona police identified him as a person of interest in the murder investigation. Fliers with Solis's photo and information about his missing car were circulated around the city.
Court documents show police are claiming Solis said he would "never be seen again," in addition to other incriminating statements.