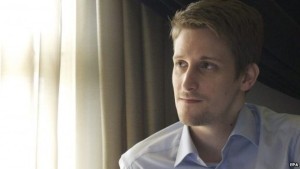 UK intelligence agents have been moved because Russia and China can read files stolen by a US whistleblower, a senior government source has told the BBC.
The Sunday Times is reporting that Russia and China have cracked the encryption of the computer files.
The government source told the BBC the countries "have information" that led to agents being moved but added there was "no evidence" any had been harmed.
Edward Snowden, now in Russia, leaked intelligence data two years ago.
The former CIA contractor left the US in 2013 after leaking details of extensive internet and phone surveillance by American intelligence to the media.
His information made international headlines in June 2013 when the Guardian newspaper reported that the US National Security Agency was collecting the telephone records of tens of millions of Americans.
Mr Snowden is believed to have downloaded 1.7 million secret documents before he left the US.
'Hostile countries'
The government source said the information obtained by Russia and China meant that "knowledge of how we operate" had stopped the UK getting "vital information".
Intelligence officials have long warned of what they see as the dangers of the information leaked by Mr Snowden and its potential impact on keeping people in the UK safe – a concern Prime Minister David Cameron has said he shares.
According to the Sunday Times, Western intelligence agencies have been forced to pull agents out of "hostile countries" after "Moscow gained access to more than one million classified files" held by Mr Snowden.
"Senior government sources confirmed that China had also cracked the encrypted documents, which contain details of secret intelligence techniques and information that could allow British and American spies to be identified," the newspaper added.
'Huge setback'
Tim Shipman, who co-wrote the Sunday Times story, told the BBC: "Snowden said 'nobody bad has got hold of my information'.
"Well, we are told authoritatively by people in Downing Street, in the Home Office, in the intelligence services that the Russians and the Chinese have all this information and as a result of that our spies are having to pull people out of the field because their lives are in danger.
"People in government are deeply frustrated that this guy has been able to put all this information out there."
The newspaper quoted Sir David Omand, former director of UK intelligence agency GCHQ, saying the fact Russia and China had the information was a "huge strategic setback" that was "harming" to Britain, the US and their Nato allies.
It comes two days after the UK's terrorism watchdog David Anderson QC published a review into terrorism legislation, which was set up amid public concerns about surveillance sparked by Mr Snowden's revelations.
He said the country needed clear new laws about the powers of security services to monitor online activity and concluded that the current situation was "undemocratic, unnecessary and – in the long run – intolerable".