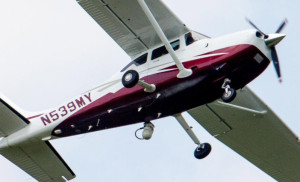 Not all surveillance tools were lost to the FBI after the expiration of several Patriot Act powers on Sunday.
The national law enforcement agency still operates an air force of low-flying planes that can identify individuals thousands of feet below by the cellphones they carry, and all without a judge's approval.
The spy planes capture video, and at times, are equipped with cellphone surveillance technology, but none bear the FBI's insignia, instead are hidden behind names of fictitious companies used as a front for the FBI. The surveillance is captured without a judges approval and used in ongoing investigations, the FBI said.
The spy planes are one tool in the FBI's arsenal to track down suspected terrorists not included in the Patriot Act debate. On Sunday, lawmakers let the Patriot Act expire, and with it the FBI's use of roving wiretaps, which allow agents to follow suspects as they switch phones, and the "lone wolf" provision which allowed the agency to spy on non-U.S. persons, even if they had no established connection with a terrorist group.
But the FBI still has its spy planes.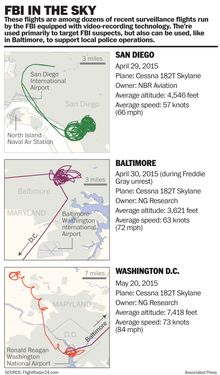 The spy planes are sometimes used to collect evidence and, at other times, to ensure the safety of those police officers who have been sent to disrupt a criminal operation in a remote area, said Jon Adler, president of the Federal Law Enforcement Officers Association.
FBI agents and police typically work together in a task force when they crack down on large-scale drug trafficking operations or terrorist threats, which means that when they do opt to conduct a pricey surveillance flight, they use federal funds to pay for that service, Mr. Adler said.
The FBI has single- and multi-engine fixed-wing aircraft and helicopters which its 56 domestic field offices can access at any given time, according to a 2012 Department of Justice Office of the Inspector General audit of the FBI's aviation operations.
"The FBI's aviation program is not secret; specific aircraft and their capabilities are protected for operational security purposes," FBI spokesman Christopher Allen said in a statement. "FBI routinely uses aviation assets in support of predicated investigations targeting specific individuals. The aircraft are not equipped, designed, or used for bulk collection activities or mass surveillance. The FBI uses all tools and equipment, and conducts all investigations, in accordance with the Attorney General Guidelines and the FBI's Domestic Investigations and Operations Guide."
Additionally, the federal agency's resources are finite, said Ron Hosko, president of Law Enforcement Legal Defense Fund and the FBI's former assistant director.
"There's a limited number of planes," he said. "Most field offices have a Cessna, a high-wing surveillance plane, and their regional resources can always call Quantico and say, 'Hey, we need more help.'"
Quantico is a U.S. Marine Corps base in Virginia where the FBI has a training academy and other operational facilities.
Although there is public concern about misuses of the spy planes, law enforcement agents refrain from using them to violate privacy rights — especially because the Justice Department's Office of the Inspector General keeps an eye on the covert program, Mr. Adler said.
"There is no roving FBI eye in the sky that is indiscriminately peeping into citizens private lives," he said. "In order to even be at the point where you can utilize aerial surveillance, you have to have a criminal investigation or a national security investigation."
Privacy advocates say the spy planes raise concerns because they carry new technologies that did not exist until just a few years ago. Now, those planes sweep up various bits of information about large portions of the population.
This story originally reported by Maggie Ybarra for The Washington Times
The full story is available here