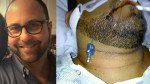 VERO BEACH, Fla. — Mitchell "Brad" Martinez, 35, was in seemingly good health when he was arrested for a probation violation and put into a police van on Friday. Martinez was driven for eight minutes while in the custody of Indian County sheriff's deputies, but was found comatose upon arrival, and was taken to the ICU, where he died Tuesday.
Other inmates were reportedly in the van, but Martinez was by himself in the holding area directly behind the driver. A surveillance video  shows Martinez getting into the vehicle on his own, then being dragged out while unconscious.
"9 AM he goes to court. At noon he's in the ICU. Nobody knows what happened," Ryan Monto, a close friend of Martinez, told a local West Palm Beach news station.
A Facebook post dated May 31, made on the page Justice for Brad Martinez, shows a photo of Martinez comatose in a hospital bed with what appears to be abrasions circling his neck. There also appears to be blood around his mouth.
"We can't get any answers and figured we'd reach out for some help," the post reads.
Indian River County Sheriff Deryl Loar says the abrasions did not occur when Martinez was in custody, although that claim is contradicted by a photographer who posted the pictures of Martinez's injuries.
Loar also claims none of the seven other inmates around Martinez "saw or heard nothing unusual." and that his deputies acted appropriately.
Surveillance footage showing brad being taken from the van was released by the Indian River County Sheriff's Office:
An autopsy is scheduled for Thursday to determine Martinez's cause of death, and a toxicology report is still pending.
Photos of Martinez show a man with a friendly smile. Friends and family said he did not have drug abuse issues, and do not know how or why he was killed.