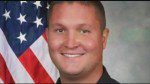 FULTON COUNTY, Ga. — An Atlanta police officer who shot and killed an unarmed man during a traffic stop evaded a grand jury's indictment Friday.
Atlanta Police Officer Thomas Atzert gunned down Maurice Hampton, 37, after pulling him over for allegedly running a stop sign while Hampton was on his way to a job interview in June 2011.
Atzert claims Hampton fled his vehicle on foot and that he gave chase, leading to a physical altercation. Aztert says Hampton grabbed a baton he was beating him with and then continued to run. Atzert then repeatedly shot Hampton in the back as he fled.
An eyewitness said Hampton did not have a baton in his hand and was unarmed when Atzert shot him in the back as he fled.
Despite eyewitness testimony to the contrary, Atzert's attorney Lance LoRusso made the seemingly dubious claim during the arraignment that "There is absolutely no doubt that if [Atzert] had not used his firearm that day, he would not have come home alive." LoRusso also claimed in his response to a civil lawsuit filed against Atzert that the officer was injured during his struggle with Hampton, although the nature of those injuries was not specified, and TruthVoice was not able to find their mention in any public record.
The Atlanta Police Department, Atzert's employer, conducted an investigation into the killing, but kept Atzert employed while it was conducted. Atzert is reportedly still on the force. The FBI also investigated the incident, but declined to press charges.
Atzert was also granted summary judgment in a wrongful death lawsuit filed last year on behalf of Hampton's estate.
After being cleared of charges, Atzert hand-wrote a note, saying: "I just want to say thank you to the Grand Jury for listening to all of the evidence and making an educated and fair decision. I respect the process and I am glad my family and I can put this past us and move on."