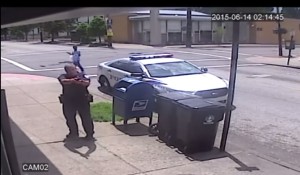 LOUISVILLE, Ky. — Mid-afternoon on June 13, a previously unnamed police officer stopped an African-American man outside of the Smoker's Dream Smoke Shop on Bardstown Avenue in Louisville. The officer believed the man fit the description of a suspect who assaulted a woman on the 300 block of West Oak St. earlier that day.
Shortly thereafter, the officer fired his gun at the man, killing him.
Officer Nathan Blanford, 40, can be seen on the video below drawing his service weapon and firing at 35-year-old Deng Manyoun.
Blanford has reportedly been placed on paid administrative leave while the same police department that hired him in 2005 investigates the incident itself.
The U.S. State Department has allowed asylum for thousands of refugees from war-torn Sudan since the 1990s. Manyoun Fled to the U.S. as a refugee from Sudan in 2001, according to the Associated Press. Originally resettled in Nashville, Tennessee by Catholic Charities, Manyoun moved to Louisville in one of the city's poorest neighborhoods.
Manyoun had an extensive rap sheet for violent outbursts towards authorities, reportedly suffered from mental illness, and did not speak English, hindering his ability to understand the officer's commands.
The fatal shooting generated outcry from some members of the public, who believe the officer's use of force was unreasonable and unnecessary. Public outrage has been further stoked by a recent report from Amnesty International that claims "all 50 states in the United States of America fail to meet the global police use of force standards."
Not all share in their concern, however. Dave Mutchler, President of the Fraternal Order of Police in River City (Lodge 614), penned an 8 paragraph open letter to the public in response to the outcry and demands for justice generated by Manyoun's death. In the letter, Mutchler referred to those concerned with the violence as "race-baiters," and accused them of sensationalism and ineptitude.
"To the sensationalists, liars and race-baiters — we are done with you."

"Your flawed logic and lack of reason regarding events that occur in our society makes you appear stunningly inept."
Mutchler went on to criticize those who spoke out against government bodies they felt were culpable for violence and oppression, issuing what some perceive to be a veiled threat to their First Amendment rights:
"If your behavior or untruths causes harm to us or the public, we will make every attempt to have you investigated, charged, and prosecuted at the local, state or federal level."
Mutchler also referred to the publicly concerned as idiots, blaming them for the Ferguson riots:
"Your idiocy and lies are what caused the destruction in Ferguson and other cities around our country and we won't be tolerating that here."
In a news conference this past week, Mutchler noted that FOP policy forbids its members from publicly commenting on matters of current investigation, but nevertheless defended his right to speak out. Mutchler closed the letter with an attack on the public's outrage, accompanied by an ominous warning:
"Your ridiculous demands and anti-law enforcement attitude has reached a level that is unacceptable. You want our attention? Well you have it."
Ricky Jones, the chairman of Pan-African studies at the University of Louisville, responded to Mutchler, calling the letter "a declaration of war."
Louisville Metro Police Chief Steve Conrad and Louisville Mayor Fischer also spoke out in opposition of the letter, noting that the officer who killed Maynoun could have chosen a less lethal response, pointing out that he had plenty of time to do so.
Despite this acknowledgement, Officer Blanford has yet to be charged.
It's my belief that we live in a world where people of all races have come to fear authority. A world where, instead of honoring the police as protectors and heroes, African-American mothers and fathers must caution their children on how to interact with police so that they not end up murdered by cops. Fresh is the memory of 12 year old Tamir Rice, who was fatally shot while playing with his toy gun on a playground in 2014 by Cleveland Police officers seconds after arriving at the scene, before their squad car had even stopped.
It seems to me that some police consider the Ferguson and Baltimore Riots as a pretext to the revolution of a very tired and oppressed people. The public outnumbers the tyrants, however, and they are slowly starting to wake up.