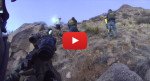 ALBUQUERQUE, N.M. — Two police officers who shot and killed a mentally ill, homeless man may face second-degree murder charges.
On March 16, 2014, Albuquerque police officers Keith Sandy and Dominique Perez concluded a standoff by opening fire and killing James Boyd, a mentally ill homeless man who was camping in the Sandia Mountains.
Video of the seconds leading up to the shooting shows Boyd distanced at least 5 yards away from the officers, holding what appeared to be hunting knives in his hands. Boyd turned away from the officers and dropped the two knives before one of the officers fires a Taser, missing him. Officers then let loose a barrage from their assault rifles, shooting him in the back. Police then approached his dying body and placed him in handcuffs.
Many have criticized the actions of police as unnecessary because of the little risk Boyd appeared to pose. When Boyd was shot, he was facing away from the officers, and dropped his weapons in a possible attempt to surrender.
Over a year later, prosecutors have decided to pursue officers for the killing. The office of special prosecutor Randi McGinn said Monday that they intend to charge officers Sandy and Perez with second-degree murder, voluntary manslaughter, and aggravated battery.
McGinn's office will present evidence at a preliminary hearing to a judge in August. The judge will then review the evidence and make a decision on whether to proceed with the charges.
Sam Bregman, Officer Sandy's defense attorney, said says disagrees with the prosecution's decision to bring charges against the officers.
"There is no justification for charging Keith Sandy with any crime. [Keith Sandy] was a police officer protecting a fellow officer when he shot a mentally unstable man wielding two knives." said Bregman. "There is simply no criminal intent."
Officer Sandy has since retired from Albuquerque police department. Officer Perez is still employed with the APD, placed on administrative duty. Until now, neither officer had been accused of a crime.
A video of the shooting is available below. Warning! Some viewers may find the content highly disturbing; discretion is advised: