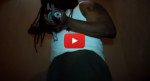 A rap music video titled GUTTA THE REBEL, which depicts men who say they are preparing to kill police officers, was posted to YouTube on Sunday.
The video, which was uploaded and directed by "Mr. ?" and released under a label called "No Sleepin Entertainment," opens with two characters sitting in a car, as one of them is told over the phone about another black person killed by police. The characters then discuss militarizing and organizing in order to kill police — actions which the lyrics indicate they believe would be self-defense.
Fatal shootings of unarmed minorities by police have appeared frequently in the media in the past year. The video references some of these slayings, such as the shooting deaths of John Crawford III and Walter Scott, as evidence of a minority-targeted police violence epidemic.
The YouTube channel that the video was uploaded to appears to be a new account, with no other videos uploaded to the channel. TruthVoice was unable to find contact information for "Mr. ?" or for No Sleepin Entertainment, neither of which appear to have websites or social media profiles.
TruthVoice plans to update this article with the public's opinions regarding the video's controversial nature and message.
The music video is available below. It contains strong language and imagery; viewer discretion is advised: