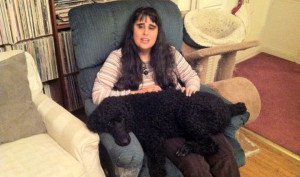 ST. LOUIS — A police officer is being sued in a federal civil rights suit filed Tuesday that alleges the officer handcuffed and forcefully dragged a blind woman and her assistance dog out of a St. Louis bar without just cause.
Marvelena Quesada, 40, filed a lawsuit that says she left a bar at closing time on October 28, 2013, and returned shortly after to help a friend pay her tab. William Clinton, an off-duty St. Louis police officer, was moonlighting as a security guard at the bar.
When Quesada went to pay the bill, Clinton ordered her to "get out and get out now," without giving Quesada and opportunity to put her debit card back in her purse. When she did not respond quickly enough, Clinton shouted "You're going to jail!" pulled the blind woman from her hair, causing her head to hit the floor, then put her in handcuffs. The suit then alleges Clinton dragged Quesada down the sidewalk on her back, while her guide dog, Dani, was leashed to her arm, dragging the animal forcefully through tables and chairs.
Quesada says she was injured by her rough treatment and confined to bed for weeks after suffering a back injury, as well as cuts and bruises. Quesada also says she has since suffered from depression and a loss of sleep due to nightmares caused from the stress of her encounter. The amount of damages sought in Quesada's lawsuit has not been specified.
Officer Clinton was named Officer of the Year in 2012 by the St. Louis Metropolitan Police Department, according to their website. TruthVoice tried to contact the SLMPD with questions regarding criminal complaints against Officer Clinton and the status of his employment, but could not reach anyone willing to comment.