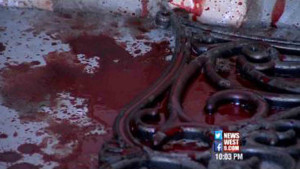 ODESSA, Texas — Police have been looking for a fugitive charged with nonviolent crimes for nearly three months, and managed to make their way onto private property on two separate occasions to shoot two dogs.
Austin Dawson, 33, is wanted for violating probation sentenced to him for public intoxication, and for possession of a controlled substance.
Police have been searching for Dawson since at least March 25, when police made their way onto private property and set off a house alarm. NewsWest9 reported:
"He came charging through the door so we backed up and he kept coming in coming in and he was probably a foot away and I had to ******* shoot him," an unknown Odessa Police Officer said on dash cam audio.
Naturally, the dogs owner, Cory Brooks, disagreed with the cops' decision to come onto his property and shoot his dog. "I don't think you should use lethal force on a dog. Why do you have to shoot at a dog four times?"
Fortunately the dog, a pitbull named Smoke, survived the attack. The same fate may not be in store for the dog shot and placed in critical condition several months later by US Marshals, still looking for the same man.
An Odessa police press release from Wednesday gives their version of events:
"While on scene, a U.S. Marshal deputy shot at a dog after it came towards them in an aggressive manner. No arrests were made and no other force was used during the incident."
The dog's owner tells a different story, however.
"My dog didn't bark at [law enforcement officials]," Anthony McDowell told NewsWest 9. "Not one time. Didn't even go charge him."
McDowell says his dog, Spot, had been a beloved member of his family for years, and that is still in critical condition as of Wednesday night.
Neighbors, who witnessed police shooting the dog, claimed the Marshal shot him "at least four times."
"I watched it, I seen it and I couldn't believe it," said neighbor Christopher Cavanaugh. "We want to feel like everybody else, like we're protected by the police, not harassed by them."
Despite shooting two dogs on two separate occasions over the span of nearly three months, while searching for a man wanted for nonviolent "crimes," Austin Dawson has not been found and remains "at large."