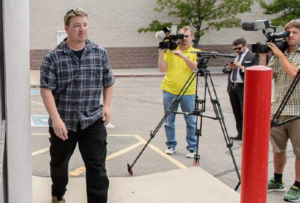 The drug detective who killed Danielle Willard more than 2 1/2 years ago went back on West Valley City's payroll Wednesday, though it's not clear whether he will work as a police officer there. Shaun Cowley — who was fired in September 2013 — had been fighting to get his job back. But the city on Wednesday filed paperwork to dismiss Cowley's administrative complaint over his termination.
His attorney, Lindsay Jarvis, said Cowley was reinstated as a West Valley City employee as of 2:30 p.m. Wednesday, when an administrative hearing officer signed the dismissal order.
More than two years after police shot and killed Danielle Willard during an undercover drug investigation, the city settled a wrongful-death lawsuit with the woman's family for $1.425 million. West Valley City said in a statement that the settlement is not an admission of liability "but rather a compromise of disputed claims among the parties." The settlement covered the city and the police officers who were named as defendants in the suit.
The Nov. 2, 2012, shooting sparked numerous protests and led Willard's parents, Melissa Kennedy and Frederick Willard, to file the federal suit. Named as defendants were West Valley City; narcotics unit detectives Shaun Cowley and Kevin Salmon; their supervisor Lt. John Coyle; and then-police chief Thayle "Buzz" Nielsen.
The West Valley City Police Department's routine investigation of the shooting led to the discovery that the narcotics unit had a number of problems, including mishandling of evidence and booking evidence without proper documentation. The city disbanded the unit, and the Salt Lake County District Attorney's Office and federal prosecutors dismissed more than 100 drug cases associated with it.
Cowley was later fired from the department for mishandling evidence. Salmon spent almost two years on paid leave waiting for the Salt Lake County District Attorney's Office and West Valley to finish investigations into his conduct, then resigned last year, shortly before the city was to announce its findings.
Salt Lake County District Attorney Sim Gill found that Cowley's life was not in danger in his encounter with Willard, and filed a second-degree felony manslaughter charge against the officer. A 3rd District Court judge Dever dismissed the charge last year after a preliminary hearing.
"The state's primary expert testified the defendant could assume Ms. Willard was attempting to kill him and deadly force was an appropriate response," Dever said.  "This testimony establishes reasonable belief that the circumstances provided legal justification for the defendant's conduct."
In a statement, West Valley City said "some key pieces of evidence have been excluded by the hearing officer."
"As a result of these developments, the city is no longer able to move forward with the case as it stands.  The city still believes that it was reasonable and appropriate to terminate Mr. Cowley. We are now exploring our options as to what the next steps are in this process," the city said.
The city could settle with Cowley instead of reinstating him. Settlement talks had been attempted before, Jarvis said, but she termed them "insulting." She claimed Cowley was owed nearly $200,000 in back pay and benefits, but West Valley City police believe he is only owed $104,000 in back pay.
A hearing is scheduled Monday to deal with that issue.
"There are a lot of emotional issues at play here. You've got a police department who is now pointing fingers as to who withheld the evidence. You've got a city manager who's probably nervous about his job. You've got a public who's now concerned about Officer Cowley who they have ripped apart, who's now a police officer again," Jarvis said. "There's a lot of upset people in this city, so coming up with a global settlement hasn't been effective at this point."
Asked if he would want to go back to work for the West Valley City Police Department, Cowley paused and said: "We'll see."