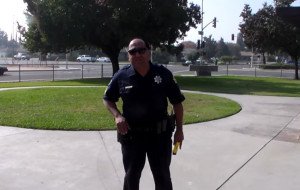 Fresno police harassed a police accountability activist earlier this week for allegedly making "threatening gestures."
In the video below, Brian Sumner claims to have been sitting on a park bench before the officer approached him. It is at this time Sumner began recording the encounter.
The police officer, Sergeant Andy Mercado, calls for backup and approaches Sumner with his Taser drawn. Mercado tells him that he is being detained, but when asked for an explanation, he can only say that Sumner committed a crime by making gestures. When Sumner asked for further explanation, Mercado told him he was being arrested for "resisting an officer."
Sumner stood there as the Mercado kept his Taser drawn and prevented him from leaving, after which time more officers arrived on the scene. The police then arrested Sumner and took his camera and possessions.
Sumner's recording of the encounter is available below: