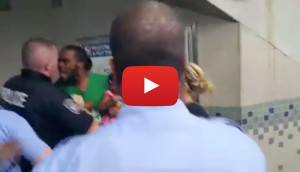 UPDATE @ 6/27/2015 4:01 AM: New surveillance video released by SEPTA police shows a police officer grabbing a man by the throat and choking him while he holds an infant. Video available below:
PHILADELPHIA — A video was posted to social media websites today that appears to show Philadelphia police officers harassing a man for not paying the train fare for his infant daughter.
In the video, police approach a man who is sitting on the bus holding his daughter. The officers can be seen leading the man off the bus and away from a crowd of progressively more vocal onlookers.
Officers press the man up against a wall while he is still holding his baby, twisting his arm behind his back. A person off camera says, "He's still got his daughter in his hands!" shortly before half a dozen police crowd the man, obscuring the vision of the camera.
The same voice says, "Yo, let him drop his daughter!" as the young girl can be heard crying. An officer wielding a club ushers the person recording the scene away, and another officer starts pushing them, barking "That way."
The person who uploaded the video, purportedly the mother of the 16-year-old who recorded it, wrote an accompanying message in a Facebook post:
So, this is the bullshit my son witnessed yesterday coming home from work. Dude's crime? Paying $2.25 for the El, but carrying his daughter on his shoulders and not paying for her. Look at how small she is, and how he is treated by Septa & Philadelphia police, over $2.25!!! I thought Septa had a policy of allowing fareless riders the courtesy? I wish they would put hands on me while holding my kids!!! This police 'entitlement' mentality, which often leads to brutality, has got to stop!
TruthVoice attempted to contact the Philadelphia Police department, but they could not be reached for comment on the issue. A report from Philadelphia Magazine says that Philadelphia Police Lieutenant John Stanford told them officers "were called in to assist with crowd control and that all of the police involved with the man directly were SEPTA police." Stanford told the magazine he is unaware of any charges being filed against the man.
A video of the encounter is available below: