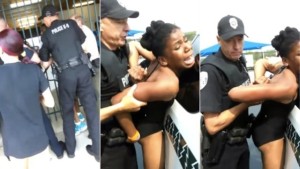 The video of an out-of-control police officer manhandling a 14-year-old girl and pointing his firearm at a group of teenagers at a pool in McKinney, Texas, added to the ongoing conversation nationwide concerning the use of force by cops. In an age where nearly everyone has a camera ready to record every interaction with police, abuses by those charged with our protection are more noticeable and easily broadcast than ever before.
Video of a separate pool incident involving police in Fairfield, Ohio, has now gone viral as a family is alleging that police broke a 12-year-old's jaw and fractured her ribs while using excessive force to arrest her and members of her family. But police are using the same video to argue that their officers did nothing wrong, and that the family is to blame for escalating the incident by not complying with police orders.
Krystal Dixon, who was at the pool with her children, is facing charges of disorderly conduct and resisting arrest stemming from the disputed event. Her sister, Maya, is facing the same charges. Their lawyer, attorney Clyde Bennett says the charges should be tossed. A local bishop agrees, saying the video clearly shows police statements about the incident to be "lies."
So what really happened at Fairfield Public Pool? Let's go to the video:
Is this a "non-compliant" family? Or a frightened family reacting to overly-aggressive cops?
How did things get to this point?
Dixon says she was told by pool staff that one of the children she was with would have to leave because he had improper swimwear. While gathering her children to leave, an officer asked her for I.D., and when she said she didn't have any on her, he grabbed her by the arm and pulled out handcuffs. The children told the officer to let her go, and the event escalated to what is seen in the video.
Fairfield Police Chief Mike Dickey says his officers were reacting responsibly to "being attacked," though an attack is not captured anywhere on the video. The video does show the 12-year-old girl, visibly distraught, being pushed up against a cop car in handcuffs. The video also shows Krystal and Maya Dixon, equally distraught, grasping onto a gate while police attempt to restrain them. At one point, the camera operator says a cop maces her in her mouth.
And there is also dispute about the extent of injuries sustained from the event. While confirming the family was taken to the hospital, police deny that the girl's jaw or ribs were fractured, and say that the trip was due to residual effects from pepper spray.
What is clear is that while the video is definitely upsetting and chaotic, the fact that both the Dixon family and police are using it in their defense says it's probably not a smoking gun for either party's argument. While much of the national discussion as of late has centered on the idea that video will help put a stop to police violence by providing more evidence on behalf of potential victims, Fairfield shows police will also use the very same videos to promote their own narratives.
Video is just as susceptible to projections of people's beliefs and perceptions as any other type of evidence, and people are also just as willing to ignore it completely if it doesn't match up with what they believe to be true. Hell, even video of a man pleading "I can't breathe" while being held in an illegal chokehold wasn't enough to get justice for his killing.
From DeathAndTaxes.com by Drew Salisbury.