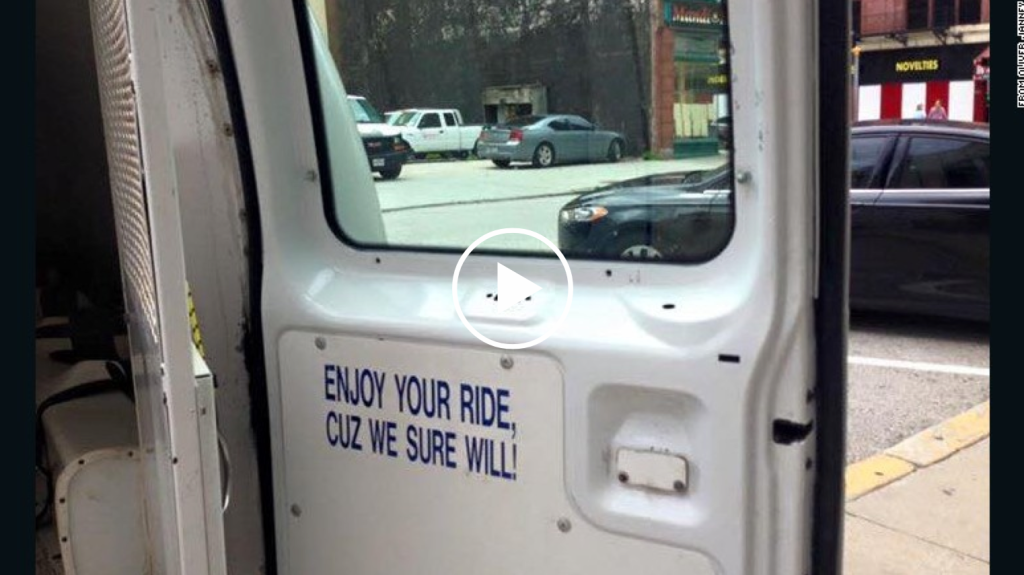 Baltimore police are investigating a sign inside a police transport van that tells passengers, "Enjoy your ride, cuz we sure will!", authorities said on Friday.
Six police officers are charged in the death of Freddie Gray, 25, who died in April from severe spinal injuries after being transported in a police wagon.
WBAL-TV reported that a woman sent the station photos she took on Tuesday when van doors were left open near a station.
The sign's authenticity has been confirmed by the city's police, which told media in a statement that the department has launched an internal investigation.
In a statement, police called the sign "both concerning and unacceptable." Deputy Police Commissioner Dean Palmere has ordered an inspection of all department vehicles and investigations will be launched "when appropriate," the statement said.
An autopsy report leaked to the Baltimore Sun said Gray died from a high-impact injury as a result of not being secured in a transport van. Gray's death sparked rioting and protests on the day of his funeral and heightened a U.S. debate over police brutality.
"The nature and the posting of wording in one of our transport vehicles is both concerning and unacceptable," Baltimore Police Department Ret. Rashawn Strong said. "We have recently become aware of the wording and have begun an internal investigation to determine all the circumstances surrounding its placement and to identify the person or persons responsible for its posting. This is an incident that is being taken very seriously."
The photographer, who lives in Baltimore, told media they wished to remain anonymous.
The "story is about the photo's message and not me," the photographer said.
The State's Attorney's Office declined to comment on the sign.
The DOJ has launched a federal civil rights probe of the Baltimore Police Department. The results of the probe were not clear.