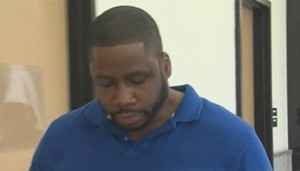 GREENACRES, Fla. — A Greenacres police officer is accused of knowingly having sexual contact with at least a half dozen women while being fully aware that he is HIV positive.
Ervans Saintclair, 38, was arrested Monday after three women came forward to report Saintclair for potentially exposing them to HIV, the disease that causes AIDS. They alleged that Saintclair had sex with them without informing them of his HIV infection.
Saintclair's number of victims reached a total of six, as Saintclair was caught in January of 2014 after three other women came forward to file the same report.
Medical records released in a previous court statement reveal that Saintclair was fully aware he had been diagnosed with HIV in 2007.
According to a statement given by department spokesman Lt. Brady Myers, the Greenacres Police Department chose to place Saintclair on paid administrative leave after the allegations, instead of firing the officer. During paid his leave, Saintclair went on to continue lying about his positive HIV status, potentially infecting three more women.
It wasn't until after Saintclair's January arrest that the three victims in the most recent complaint came forward. It is unclear if any of the women were given HIV by Saintclair.
One woman said another of Saintclair's other victims contacted her, prompting her to confronted Saintclair about his HIV infection. That woman told police that Saintclair laughed at her and denied the allegation.
Saintclair is being held at the Palm Beach County Jail on $15,000 bail, and is facing charges of an additional three counts of uninformed HIV infected sexual intercourse. A court date has not yet been set.