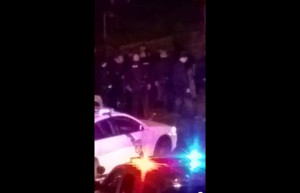 PHILADELPHIA — An internal investigation has been launched after a video was posted online that shows nearly two dozen police officers repeatedly hitting and applying electric shocks to a restrained and unarmed man in April.
The video shows Tyree Carroll, 22, surrounded by shouting police officers, whose numbers increase over the course of several minutes. The officers threaten and curse at Carroll, calling him a "piece of shit," and screaming "tase the mother fucker!"
Carroll can be heard on the video screaming and pleading while held against the ground by several officers, as police repeatedly kick and punch him for several minutes. A total of 11 police vehicles arrive at the scene.
A video of the incident is available below, courtesy of the Tyree Carroll Family:
The man's grandmother, Nancy Carroll, says she believes the officers were out of line.
"I think that it was wrong what the cops did to my grandson. He wasn't doing anything," Nancy reportedly told local station Action News. "He didn't resist. These cops are going to say anything trying to get over, but he didn't resist anything. They lied."
Police claim Carroll was suspected of dealing drugs, and stopped him as he rode his bicycle, not far from his grandmother's house.
John McNesby, President of the Fraternal Order of Police Lodge 5 in Philadelphia, says he watched the video and believes the police did nothing wrong.
"You could see clearly in the video that he didn't want to be handcuffed. He was doing everything possible not to be handcuffed. He was resisting arrest, assaulting the officers. It just goes to show what we go through. They should be commending the officers rather than opening a big investigation here," McNesby said.
Police claim Carroll bit them as they restrained him, but Carroll's family says he was trying to escape as he was in fear for his life.
"He was thinking about Eric Garner," said Carroll family spokesperson Margaret Prescod to CBS reporters. "He was terrified he was going to die."
Eric Garner, a New York City resident accused of selling an out-of-the-pack cigarette, was choked to death by police officers earlier approximately one year ago, on July 14, 2014. Garner's death has received international attention.
Carroll is in jail on charges of simple and aggravated assault, reckless endangerment, and a drug charge. His hearing is scheduled for July 21.
The Philadelphia Police Department has not released the identity of the officers who beat the man.
None of the officers have been suspended or placed on administrative leave following the incident.