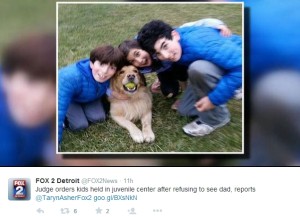 A judge who unsuccessfully tried to arrange child visitation for a father, decided that the best way to deal with the problem was to send the children to jail, according to court documents in Michigan.
Oakland County Circuit Judge Lisa Gorcyca ruled that the three children of Maya Tsimhoni are in contempt of court for refusing to meet with their father.
According to the Detroit Free Press, the children — ages 9, 10, and 15 — were found in civil contempt of court during a June 24 hearing in a bitter six-year custody battle between their parents, Maya Eibschitz-Tsimhoni and Omer Tsimhoni.
After two weeks in jail, the children remained defiant. The 15-year-old boy told the judge that he will not have a relationship with his father because he saw him hit his mother.