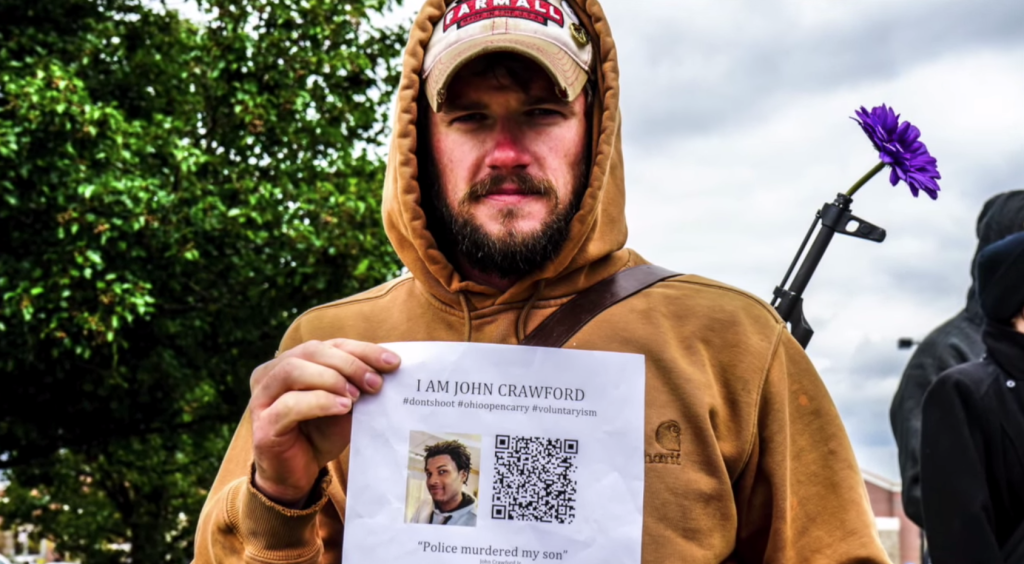 Ohio Open Carry, an independent organization advocating for our rights to open-carry firearms is planning a large open-carry demonstration on Wednesday, August 5, exactly one year after the shooting of John Crawford in the Beavercreek, Ohio Walmart.
Crawford was a 23 year old man who was shot and killed by Beavercreek Police Officer Sean Williams after picking up a small air rifle from a shelf in the store and walking with it throughout the store and after Ronald Ritchie, another customer, called 9-1-1 and claimed that Crawford was threatening customers with a gun.
Surveillance footage of the shooting incident was later released that completely refuted Ritchie's statements made on the emergency call, and which showed that Crawford never even remotely threatened anyone with the bb gun and was simply wandering around the store talking on a cellphone while gently swinging the toy.
A grand jury was convened into the shooting of the innocent man, but they failed to charge Sean Williams with a crime. The FBI and Department of Justice have also been investigating the shooting and so far no charges have been brought against the officer.
Ohio is an open-carry state and the killing of Crawford for casually holding a bb gun in a non-threatening manner raised serious red flags amongst supporters of open-carry.
Several other open carry demonstrations have taken place at the location of the shooting, with protesters saying they wanted to remind residents and law enforcement that Ohio is an open-carry state and it's legally protected activity.
One demonstrator who asked to remain anonymous said,
"The whole point of this is to be a peaceful protest and educate people that Ohio is an open-carry state, and a man was killed while open-carrying a gun inside the Walmart."
A number of the protesters in the past held signs reading, "I am John Crawford," and "Serve and Protect. Not Serve to Kill," while others wore Guy Fawkes "Anonymous" masks.
Another demonstration in a statement to WDTN 2 said,
"This case is clearly a case related to open-carry, maybe John Crawford was not carrying a real firearm but he was carrying what seemed to be a firearm and the overreaction of police in this instance is just completely outrageous."
The overly aggressive and militarized tactics of law enforcement are causing many citizens to rethink the proper role of law enforcement in society, as far too many cases of innocents being gunned down are coming to light to simply ignore. People are slowing coming to the realization that the police state has virtually no accountability unless forced to by the citizenry.
Some locals have also showed up in support of the police.  In a video recorded in late 2014, a police supporter was being recorded stating that he was "happy that an unarmed black man was killed" while others showed unwavering support for the local police force.

A record number of demonstrators is expected to show up on August 5. You can join the event on Facebook here: https://www.facebook.com/events/1482661945378261/